Springtime is in the air and Keeping The Blues Alive Foundation has been on a roll!  It makes us so happy to be a part of something bigger than our own worth!  Giving the gift of opportunity and access is worth so more than any amount of money that we can spend to fund a music project.  Knowing that students' lives were changed because strangers decided to reach into their pockets and share from their hard-earned paycheck, is such a rewarding feeling! We wanted to tell about two other schools that were beneficiaries of the foundation: Sherman Senior High School (Seth, WV) and Dr. Jorge Alvarez High School (Providence, RI)
Off the beaten path of the old coal town of Seth, WV is a school ridden with financial strain.  When we learned that Ms. Estep's music class was falling behind in their music funding, we knew we could step in.  Ms. Estep describes her classroom situation:
My students range from grades 7-12. Though many of these students have an interest in learning guitar, many cannot due to their socioeconomic situation. More than half our students participate in the free/reduced lunch program.  I have personally purchased many things for my music classroom, such as music, strings, and other supplies in order to give my students the opportunity to have a hands-on musical experience. However, with twenty+ students per class, there are simply not enough instruments for everyone. I would like to give my students the opportunity to learn to play guitar and have a life-long enjoyment of music."
Nationwide, only 20% (or less) of students participate in traditional performance groups. The other 80% can be reached by offering non-performance classes such as guitar.  This music music project encompasses the type of curricular activity that can stimulate and motivate these students to be assertive, to learn about trial and error, and sew back into their community.
Using donations from Keeping The Blues Alive along with a team of donors, Ms. Estep was able to purchase two (2)  Fender Acoustic Guitars to use in the beginning guitar class!
Thank you for your generous donations! I can't even begin to find the right words to convey just how thankful we are to have your support. Through DonorsChoose, I will be able to give my students opportunities I never would have dreamed to be possible. By donating to this project you are helping me reach more students and fostering a life-long love of music.  Your support of music education is incredibly important and very much appreciated.  Thank you so much!  With gratitude,
Ms. Estep – Sherman Senior High School
But, you know how Keeping The Blues Alive gets down… We couldn't stop there.  While we were on the issue of providing string instruments and supplies, we had to take it one step further!  Not too far away was a school with a similar request, only they were asking for supplies to rejuvenate the system they had going already.  A list like this one would consist of guitar tuners, mandolin strings, sheet music books (manuscript), and blank CDs for the music classroom.  This was a small order to fill, but in the eyes of a music teacher, this means NO OUT OF POCKET SPENDING!  We couldn't let Ms. Leech at Alvarez High School front the bill for a classroom that she is supposed to MAKE money teaching.  Ms. Leech explains her project: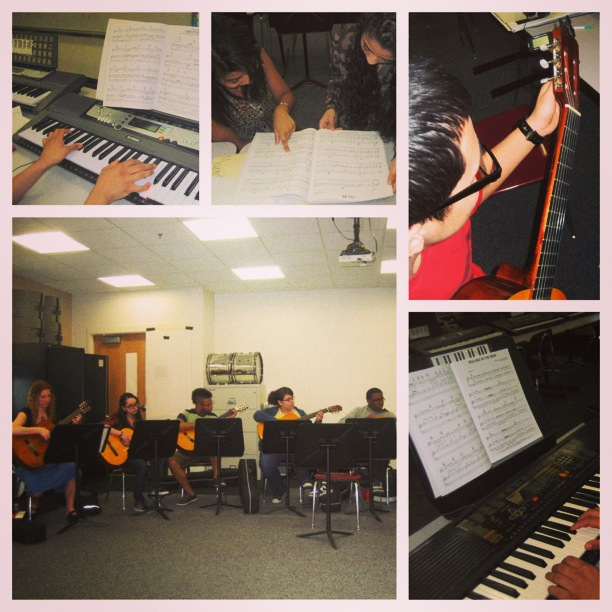 "I recently acquired a mandolin that I would like to incorporate into my guitar ensemble. The extra mandolin strings will be helpful in the event that a string breaks or eventually they need to be replaced. The tuner is going to be amazing to use to not only tune the mandolin but the plethora of classical guitars I have in my classroom. This tuner is really unique because it clips onto any acoustic string instrument and can tune that instrument even if there is extraneous noise in the room (and when isn't there music playing in a music classroom!?) This tuner would allow me to tune guitars in a noisy room during class time or right before a concert.  The guitar ensemble sheet music book will be favored among members of my after school guitar ensemble. The Adele piano play along book and the 1990s piano play along book and CDs are going to be favored among my regular music classes. The spindle of CDs is imperative because as a music teacher I use a lot of CDs!"
Keeping The Blues Alive donors pitched in for her fundraiser and eventually acquired the funds basically overnight!
Thank you for your generous donation! My students could not be more thrilled about the new materials! The guitar tuner has been awesome! It is the most precise guitar tuner I have ever used! The tuner clips directly onto the guitar and it makes tuning so much easier (especially in a loud music classroom!)  My pianists are really excited to learn some new songs! The favorites being "Rolling in the Deep" by Adele "Everything I Do (I Do It For You)" by Bryan Adams and various movie and television themes from the "Great Themes" Guitar Ensemble Book!  The blank CD's are an imperative resource and material in my class room. As a music teacher I am always burning mixed CD's for quizzes and assessments, as well as acquiring new music from my students and their cultures. The mandolin strings will be great in case a string breaks.
Thank you Keeping The Blues Alive Foundation for positively impacting the lives of my students this year and many school years to come! This project could not have become a reality without your generous donation! Thanks again!"