JOE BONAMASSA & KTBA MAKING A DIFFERENCE FOR TOURING MUSICIANS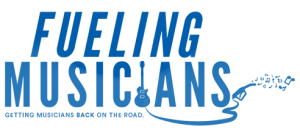 Joe Bonamassa's Fueling Musicians Program is a relief plan for helping touring musicians get back on the road. 
This initiative is designed to support musicians by providing financial assistance for essential living expenses such as food, shelter, and more. Fueling Musicians provides immediate cash payments of $1,500 to help struggling musicians get back on the road again when it is safe.
* These items have been donated by industry partners to help raise funds for the Fueling Musicians program.
STREAM-A-THON: BENEFITING FUELING MUSICIANS
JOE BONAMASSA & KTBA MAKING A DIFFERENCE FOR TOURING MUSICIANS

Keeping The Blues Alive Foundation features an annual Stream-a-thon to benefit Joe's Fueling Musicians Program which supports touring musicians focus on their music and get back out on the road. The live streaming event features over 2 hours of music performances from a star-studded lineup. Past lineups included Bonamassa, Toto, Dion, Ana Popovic, Warren Haynes, Bobby Rush, Jared James Nichols, Emile Wolfe and many more. You don't want to miss this spectacular display of musicianship hosted by Joe Bonamassa! Over the last three years, we have raised $100,000 from our Stream-a-thon event!
Thank You Videos from our Recipients!
To date, we raised $560,000+ and 350 packages have been distributed!
"A COPY OF THE OFFICIAL REGISTRATION AND FINANCIAL INFORMATION MAY BE OBTAINED FROM THE DIVISION OF CONSUMER SERVICES BY CALLING TOLL-FREE 1-800-HELP-FLA OR ONLINE AT WWW.FLORIDACONSUMERHELP.COM, REGISTRATION DOES NOT IMPLY ENDORSEMENT, APPROVAL, OR RECOMMENDATION BY THE STATE." REGISTRATION #:CH37486