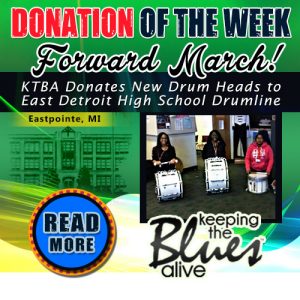 eastpointe, mi – Thanks to your donations this week, Keeping The Blues Alive, together with AT&T Aspire, donated new drum heads to the drumline at East Detroit High School!
The school's band director, Mr. Chouinard explains:
"My school contains a lot of students that are a part of low income families and or are considered at risk due to their emotional or physical well-being. Most of the students I teach are genuinely nice kids that are driven to be successful, but have had their fair share of neglect. Most of the equipment in our school is falling apart or is damaged beyond repair, but our funding is too small to keep up with the need. My students know that we don't have a lot of financial support, so they are used to treating what we have with respect to prevent further damage. My students hope to see the program return to its former glory days of being a nationally recognized program, but find it hard to be motivated at times when having to use damaged equipment."
Mr. Chouinard really wants to expand the drumline, as last season they only had five students involved.
Thomas Bertrand knows this all too well. He managed Educators and knows just how important music is. Speaking, Thomas said, "We know how beneficial marching band programs can be!  They teach students about hard work, persistence, discipline, and regiment.  In addition, playing music is fun in general!  If you aren't having fun, then what's the point?"
"With more snares available, we will be able to provide an opportunity for more students to learn how to play snare drum in the marching band setting, with a strong focus on rudimentary studies, while growing our numbers for future years. We only had two students using snares last year in part due to not having enough functioning equipment to go around."
Looking at the bottom line, we had to do it, folks.  Doesn't it sound like they could use a hand?  Do they need a $500,000 budget to save their program? No.  They need drum heads.  So we made it happen – TOGETHER!
"Thank you for your support and contribution to this project. Thanks to your donation, you have allowed our program to reach more students through music and provide more opportunity for our students to play.
It feels good to know that others share in our vision to bring music education to as many students as possible. We now are another step closer to our goal of providing a quality education for our students in order to help create a brighter future for new generations of students. We look forward to having a a wonderful marching band season this fall of which you have helped make possible."
With gratitude,
Mr. Chouinard
This is just one example of how your small donations make a big difference in the lives of many kids out there looking to music for guidance.  Your small donations go far, and we make sure of it.
If you would like to help us fund next week's project, click here!  We promise it'll be a good one 😉
Keeping The Blues Alive Foundation is a nonprofit 501c3 organization that seeks to offset the loss of music education programs due to budget cuts for arts and music.  We fund school programs and individual scholarships.  We are working on a pretty super awesome form for you to be able to send us your projects, too!  Stay tuned.
Grateful for your support,
SH