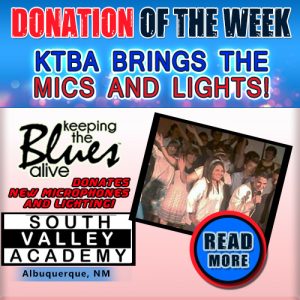 albuquerque, nm – Here it is, folks! What a great week we had at the KTBA office!
Do you remember your first play?  For us, we have memories of seeing Annie, The King and I, Rent, Avenue Q… our memories fade away after that!
However, in the final week of intense rehearsals, the drama students at South Valley Academy in Albuquerque received some AWESOME equipment for their play.
New microphones and lighting equipment should arrive early April, and we couldn't be more excited for them.
This is all because of the donations we received this past week, and to those donors we say THANK YOU!
As we all know too well, arts and music programs are constantly on the chopping block when it comes to extracurricular activities.  The problem with that fact, is that music and arts are not "extra-curricular."  They should be a part of the core curriculum so that students learn how to express their ideas and communicate them in a collaborative and expressive environment!  The end result is a student who not only has the ability to execute their ideas, but can think critically and creatively about ways to do it – how to innovate new products or strategies and think outside the box!
The majority of the students at South Valley Academy are from immigrant families who are beginning to learn English and have never been exposed to so much art and music!  This drama class allows these students to be able to grow as individuals as well as a group setting, while performing and doing something they are passionate about. It's just a straight up socio-educational hat-trick!
Now that the chorus will have lapel mics, they can move freely on stage, which dramatically increases the quality of the performance as a whole.  (We've all been to concerts and you can't even hear the lead singer.  The singer is so tired of NOT hearing themselves they figure 'Why even try?') This is also where the lighting comes into play.  These kids will be so proud and excited for their show, it will boost their confidence, and continue to bring in new kids who may want to be a part of their program next year.
Folks, this is another one of the small ways that we have used our resources, together, to put smiles on kids' faces; to encourage music and arts teachers to keep working for the best interest of our children; to encourage students to participate in constructive activities besides running the streets, carrying on with peers who don't share their ambition – hanging around with "nothing to do," getting "creative" with controlled substances with nothing but a foolish idea and a couple kids to encourage them.
We've got more and more unique projects to fund this year, so please make a donation and help us keep it going!  We have a benefit concert planned for August 31 (uh oh!), a new website under construction (gotta step it up), new scholarships in the works, and a TON more projects to fund!
Be a part of this legacy!  Let's make it happen – No donation is too small!
Thank you for your continued support!