Giving The Gift of Music
neptune, nj – Thanks to your donations this week, 125 elementary school music students will be able to play a full concert of music using new instruments purchased by previous campaigns.  The sheet music the students will receive from this week's campaign will stretch their musical abilities, and challenge them to keep practicing!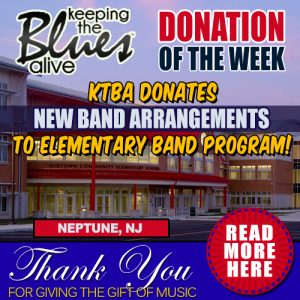 Mr. Palmer, the school's band director, expressed that his 3rd through 5th grade students live in a high poverty area of New Jersey. Over the past few years, he has been steadily acquiring new instruments for these students through Donors Choose.org.  Another advantage to this new music is the fact that it will last for future graduating classes as well.  Not only will this year's students benefit from the lessons and techniques learned through the music and instruction but they will pass it on to the next year's students and so on.
The majority of the music is a Grade 1 or 1.5 level of skill. There are six (6) levels which vary by the publisher.  There are a handful of music publishers that own a majority of band music, so although there will be slight discrepancies amongst grade levels, it is hardly enough to worry about.  Grade one is considered the Beginner level which is primarily reserved for first and second year players.  This level is ideal for Mr. Palmer's students and we felt that his attainable goals for the students will serve them all amicably.
Dear Keeping The Blues Alive Foundation,

Thank you so much for your donation to my school band program. What would the band do with out music. I guess we would just keep time. The music the we will receive thanks to you will be put into our music library. The students will get a chance to learn how to play these songs. These songs will be used for years to come. This gift will benefit countless students over the years.The band and school community is very excited that you have helped us get new music.

Thank you so much!!!!

With gratitude,
Mr. Palmer
We funded this project because we understand how important it is for these students to have the materials they need to succeed in the music classroom. With budget cuts being such a dismal reality for many schools from year to year, we wanted to provide the best learning opportunity for the students at Midtown Community Elementary School.
Thank you to everyone who participated!
If you would like to help us fund next week's project, click here to make a donation!