Joe Bonamassa recently hosted the Keeping the Blues Alive 3rd annual Stream-A-Thon, which featured just under three hours of performances from almost 30 electric guitar and acoustic guitar artists, including George Thorogood, Bill Payne, Tommy Emmanuel, Larry McCray, Eric Gales, and more!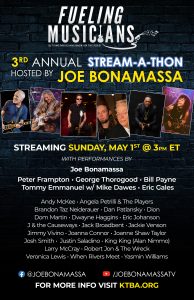 The Stream-a-thon raised over $59,000 in one Sunday afternoon – all of which will be given to artists in desperate need of relief during these difficult times.
Joe Bonamassa says, "I want to thank everyone who participated, contributed, and donated their time to make this happen. Reaching as many musicians as possible has been our goal from the beginning and I am pleased to see that we will be able to help hundreds of musicians get the music started again. The more donations we receive, the more help we can provide."
Ten (10) industry partners contributed to the cause as well, which included generous gifts from Gibson/Gibson Gives, Seymour Duncan, Ernie Ball, Broken Arrow Wear, Sixthman Productions, TrueFire, Ocean Way Studios, Shukat Arrow, and Dunlop, and of course, J&R Adventures.