Middle School Students in Montgomery Hit That Beat!
MONTGOMERY, AL – Thanks to the donations from supporters like you, Keeping the Blues Alive Foundation donated brand new Aspire Oak Congos to the music students at McKee Middle School in Montgomery, Alabama!
About the Students
According to Mrs. Phillips, "the McKee Middle 6-8 band room is a safe place. It is almost separate from the school because it becomes a safe haven for its students to come and feel at home. We use music as a relationship builder in our band room. The students and parents look forward to entering our room to see what good it is we are coming up with at the time. Our program has been superior-rated for the last five years because we work hard and we stay focused on the task at hand."
That task is to excel, to compete, and ultimately WIN!
"Once they enter my classroom they know it is a safe place but also a very serious place where we learn to be competitive and rise above the competition," Mrs. Phillips says.
Under her leadership, Mrs. Phillips has had students who have won the Alabama State Spelling Bee Competition, the state Hear Our Voices competition, multiple Beta Club competitions, and have been accepted to various District Honor Bands.
About the Teacher and their School
"Our band is a breath of fresh air to our school building," she says. "Our school mainly focuses on athletics so we do our part to receive just as much publicity. We perform anywhere we get a chance."
Mrs. Phillips has been a fierce advocate for music education projects at her school and has been crowdfunding for at least the past 4 years.
Nearly all students come from low-income households which makes this gift even more uplifting to those students and families. Approximately 95% of students receive free or reduced price lunches and the school receives significantly less state and local support than similar districts with less diverse student populations.
About the Project
Approximately 100 students will be affected by this project, placing it in the upper tiers of our impactful donations. The bongos will be used for the performance of The Invincible Warrior.
"The Invincible Warrior is a piece we are playing for our Music Performance Assessment [or MPA's]," Mrs. Phillips explains. "Full of energy and lively percussion, the students are excited to play it. We have all the parts covered except the Bongos. I have one scholar playing the part and the scholar has been practicing on drum pads until we get a set of Bongos. It is important that we have all the proper instruments for the pieces so the adjudicators can be impressed with our group. Superiors [top ratings/marks at MPA's] are what we are seeking! Help us get them!"
Attitude of Gratitude
Thanks to the support of music lovers and donors like you, Keeping the Blues Alive Foundation was able to fund Mrs. Phillips' project and the bongos were delivered to the school promptly!
She expresses her gratitude:
Dear Keeping The Blues Alive Foundation, Inc.,

Thank you for finding our project so quickly! We will have these in time for our assessments! We are so thankful for your generosity and thoughtfulness to our program. Our students have been practicing very hard and are very motivated to do a great job. McKee has not competed in many years so I am hoping to go and prove that we are a different band. Thank you!!

With gratitude,
Mrs. Phillips
Affiliates
In addition to KTBA funds, Mrs. Phillips also received additional support from the Central Alabama Community Foundation (CACF). For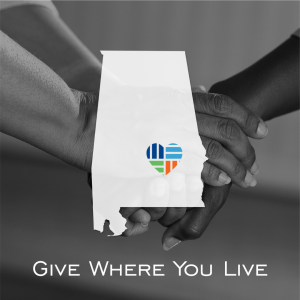 over 35 years, the Central Alabama Community Foundation has been a valued community partner and resource for nonprofits and students in the River Region and Wiregrass. Through the generous support of individual and corporate donors, the foundation provides over $5 million in grants and scholarships each year that meet diverse community needs, supporting programs and projects in education, human services, health, cultural arts and other civic concerns. Our mission is to create a better quality of life for those who live and work in the River Region. CACF serves several counties including Autauga, Coffee, Dale, Elmore, Geneva, Henry, Houston, Lowndes, Macon, and Montgomery. Click on the logos above for information about our affiliates in Autauga, Elmore and the Wiregrass Region.
Support the Weekly Donation Program
Every week, Keeping the Blues Alive makes a donation to schools in need of music instruments, supplies, sheet music, and more. Beginning as far back as 2015 (and pausing in 2020), we had been increasing the amount of weekly allocations. Now, we're getting back on track with our weekly contributions but we do need help to keep this program afloat!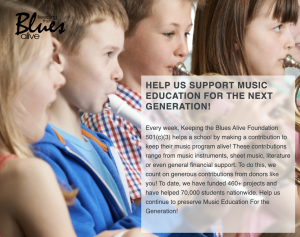 If you enjoy seeing these weekly donations to classrooms across the country, please consider becoming a monthly donor to support this mission.
Thank you for keeping music alive in schools!