KTBA Donates Reeds to High School Woodwinds
thomson, ga – Just two hours east of Atlanta, GA in McDuffie County is Thomson High School – over 1,200 students making up the largest and only high school in the McDuffie County School District.  Despite the school's innate mission which is "to learn, to teach and to serve", budget cuts have rendered the music program helpless as they prepare for spring concerts, summer band camps and most importantly, the next semester of classes.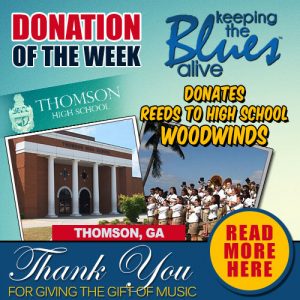 As a result of the high demand for Ms. Hill's music courses at Thomson High School, the band program makes up more than one quarter of the student population.
Much like drum heads or drum sticks, and other materials that are only good for a number of consecutive uses, reeds can prove to be a costly expense when you're running a band program this big.  Most public schools are not permitted to charge students for "excess" materials however, reeds and sticks etc are not "excess" materials.  You cannot play the instrument at all!
As funding got tight for Ms. Hill, she reached out to get some help so that her students can continue practicing their instruments not just at school during class hours, but also before and after school, at home, and especially at special events.
Thanks to your donations, Keeping The Blues Alive Foundation was able to purchase reeds, cleaning swabs, and ligatures for the band program, which was thrilling for Ms. Hill and her students!
Dear Keeping The Blues Alive Foundation,

Our band program is the largest student organization in the school system. In our program we have many different types of ensembles; one of our most popular ensembles is the jazz band. Our jazz band performs all over the community and at the other schools in the county for various events. These events range from Relay for Life, school pep rallies, and major community events and luncheons. The students in jazz band love performing and playing their instruments. They are among the best and brightest in our school and as their teachers we could not be more proud of their success.Because of the additional practicing and performing and the demographics of our school the students and their families struggle to provide all of the materials necessary to succeed in their classes. As a Title I school we are not given federal funding for fine arts.With your donation we will be able to give these materials to our jazz band and regular band students to use in class and for performances. We are truly grateful and blessed to have this donation for our students.

Thank you so much for this donation and for helping our students. Your contribution will help them in so many ways and we can't express our gratitude for your generosity.

With gratitude,
Ms. Hill
We appreciate everyone who made a donation and hope that others decide to chip in for next week's project!  They are coming in more and more frequently, and we hope to be able to help them all in some way!
Thank you for your continued support of our mission to keep music education in schools!  We couldn't do this without you!
To make a donation to the next project, click here!
To purchase tickets for our benefit concert at Red Rocks Ampitheatre on August 31, 2014, click here! $5 from each ticket is donated to Keeping The Blues Alive Foundation!
To learn about Keeping The Blues Alive at Sea (Miami | Key West | Bahamas) click here!