Anyone who has ever had the privilege of taking a music course in school would be familiar with standardized music instructional textbooks such as Standard of Excellence or  Essential Elements.  They are easily one of the most popular and time-tested curricula for music educators all over the country.  In addition to describing posture, basic fingerings, and good habits, the books allow the student to progress in a graduated manner so they master the pre-requisite skills before moving on to lessons of greater difficulty.
Mr. Povie, an elementary music teacher at Hesse Elementary School in Savannah, GA had been using borrowed materials and pulling together resources in spite of budget cuts, to provide a quality education for his students.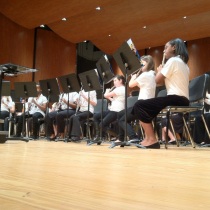 "My students love music and are very dedicated. We have a good selection of Concert Band music we borrowed from other schools, and a few we have bought with our budget. Our library of good jazz music is very small, and cannot be added to because of budget cuts," Mr. Povie reported.  My students come from a wide area to our neighborhood school.  Many come from poverty and single parent households, but all of them love to play good music together, and they work hard to improve their abilities.  Many had never played an instrument before joining the band, and they have found that they have a natural talent and innate ability to learn to play."
Thanks to the donations of Keeping The Blues Alive Supporters, we were able to participate in a fundraiser to purchase Mr. Povie's classroom set of music curriculum called "Essential Elements Jazz Ensemble" covering pedagogy and technique for trumpet, trombone, flute, alto saxophone, tenor saxophone, clarinet, bass guitar, and the accompanying conductor manual.  The series also includes supplementary DVD's and CD's with listening examples and other useful classroom materials.
"These song collections will give my students exposure to a wide variety of music styles at a fraction of what it would cost us to buy songs individually. We will be able to put on concerts showing our growing abilities in all different styles of music, and this will prepare them to continue into high school and beyond as strong musicians. Many of my former students continue into college and then into professional performance and teaching careers, and they need to play all types of music to be successful at this," Mr. Povie adds.
Your donations make a real impact in schools across the country. Thanks for helping us Keep the Blues Alive.
Donate today at https://keepingthebluesalive.org/donate/