Thanks to your donations, Keeping The Blues Alive was able to rescue another music program in need!
Meeker Middle School, located just outside of Renton, Washington needed music stands for their band program. Band Director and recent First Investors Outstanding Educator Award Winner, Mrs. Brewster, explains:
"We've got a great problem at our school: completely full band classes, but not enough music stands for all 90 7th and 8th graders to play together at the same time in a mass band!  In our December concert, the 7th graders had to pass their music stands to the 8th graders after their performance."
To read about Mrs. Brewster and her Outstanding Educator Award click here!
"My students are hard working musicians in the 7th and 8th grades that contribute greatly to our ensemble sound. Their development would be greatly aided by having no more than 2 students per music stand during performances. Because of their high caliber playing, they deserve to be seated with the best possible posture and comfort needed to play."
Your donation allowed Mrs. Brewster to purchase 12 new music stands for the band program!  Now, in rehearsal and performance, each child can perform without needing to share a stand with more than one other partner in their section.  The flow of the concerts will be much smoother in the sense that between performing ensembles the students are not re-staging the entire stage to accommodate the changing instrumentation.  Additionally, if they want to combine the bands for a unified concert experience, they won't have to move the stands at all!
Meeker Middle School is an example of one of our principles at Keeping The Blues Alive Foundation.  $50,000 grants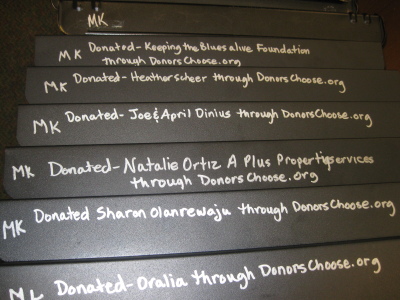 are special and absolutely life-changing.  However, so is a small donation to help students and teachers who are already making a difference.  Sometimes they just need a little bit of oil so to speak, to keep the engine running smoothly.  Because of assertive music teachers and donors like YOU, Keeping The Blues Alive Foundation was able to step in and give them a little boost.
Thank you so much for your support, and if you'd like to contribute to our Foundation, please click here to donate.  Every dollar counts!