Gridley, CA – Guitarists riffing, drummers rocking, kids learning; This is what you will hear when you walk past this classroom at Gridley High School in California, thanks to an English teacher with a passion for music!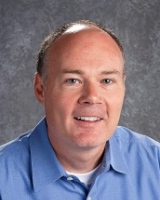 In California, and in many other states around the country, music teachers are a rare commodity.  Often times, a certified music teacher cannot just teach at one school, have their own classroom, and work full-time.  They must teach one or two classes at one school, andthen commute to another school to make up for the other classes they do not get to teach at the first.  Some people would call this "double-dipping" but for these teachers, it's the only way to pay the bills.  Unfortunately, this means that less students at either school are eligible to receive music instruction, as the teacher's time is limited.  However, for students at Gridley High School, the students get an alternative  – and it's called Rock Camp.
Mr. McCabe, a high school English teacher has a full day when he goes to work.  He teaches three (3) English I courses, and two upper-level English courses – English 4, and AP Literature.   However, his passion for music and his touring experience moved him to take the initiative to start an after-school program called Rock Camp which allows students from the high school to enjoy music even though the school would not be able to keep up with the demand!
"Since school music programs have been cut deeply, especially in California, I started Rock Camp as an after-school program. Rock Camp takes place right in my room, and involves students from my school. It is free for the kids, of course, and only involves me donating my time. Our music teacher is only here for one or two periods, then travels to another school. I'm just trying to pick up the slack from the state budget cuts," Mr. McCabe explains.
When we received this letter from our friends at Donors Choose, we knew we wanted to step in and help get Mr. McCabe the tools he needed to make a difference for his school and ultimately, his community, by getting involved.  His request? 1/4" cables.  that's it.  Oh and sorry, he needed a drum throne for his drummer.  (Come on, no drummer deserves to rock faces by sitting in an office chair.  It's called a throne for a reason!).
We donated almost $400 to help them supply the Rock Camp and they were able to purchase plenty of speaker cables, patch cables, and of course, a drum throne!
Without your support, we would not be able to help these music programs.  Thank you for donating and helping us be a gateway for people to keep music music in our schools!  Every donation helps us achieve our goals, so you should never feel like an amount is too little!  To give, and help us fund the next music project donate to Keeping The Blues Alive Foundation today!