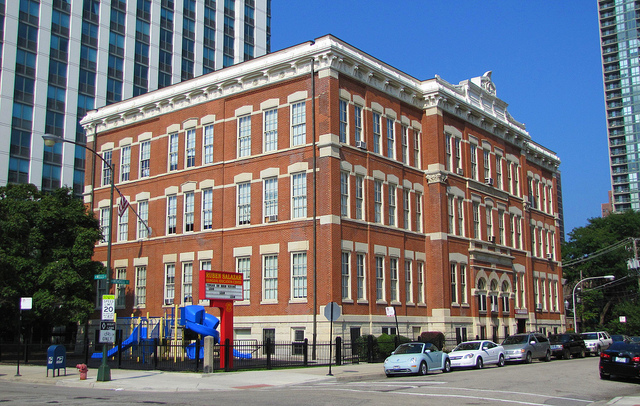 CHICAGO, ILLINOIS – In 1971, the Chicago Board of Education, along with an approved federal proposal, birthed a non profit initiative to advance bilingual education and parent participation. Ruben Salazar Bilingual Center, named after the hispanic visionary and political leader, addressed the academic needs of the non-English speaking preschool student, and soon become a premier learning center for early child development in the city of Chicago.  As the school enrollment grew, the school selected its first principal in 1990 and since then, has become not only a learning center for preschool students, but has grown into a certified Dual Language School for grades Pre-K to 8th grade!
Mrs. Arellano, a 20 year veteran teacher at the bilingual center, has experienced a plethora of changes and adaptions to the modern learning environment, the ever-changing economic strain across the country, and especially changes in the shifting needs of the over-stimulated culture of today's generation.  When Keeping The Blues Alive Foundation become aware of her class project to purchase Kaplan Certified Early Learning instruments, we knew that this would be a perfect way to give Mrs. Arellano an opportunity to use music and dance as an universal tool to seamlessly integrate cultural variety, basic musical concepts, AND speech patterns in a fun and engaging manner.
"I have twenty 3-5 year olds who come from different socio-economic, language, and cultural backgrounds. Some of my students' first language is another language other than English," Mrs. Arellano confirms.  "It would be nice to have musical instruments that come from their own cultures."
After proper research and deliberation, we awarded Ruben Salazar Bilingual Center the grant to purchase two rhythm band sets of instruments, including an accompanying DVD.  We are certain that by keeping these students engaged with their new supplementary learning instruments, they will enjoy coming to school, learning, and making music together!
Early learning is becoming an increasingly vital priority as educators and child care providers around the world seek alternative ways to empower future generations with the life skills, abstract thinking, and educational merit that is necessary to be successful in today's shifty and extremely fickle job market.   Additionally, we believe that the younger a child can grasp and apply these important skills, the better the chance that they will grow up to think for themselves, to bring new ideas to solve life's greatest challenges, and to know how to work together – as a team.  Music is by far one of the most tangible ways we can give this experience to our children.  We hope that Mrs. Arellano and her students experience this growth together by using their new instruments, and we will check back with Mrs. Arellano at the end of the Fall 2013 Semester.