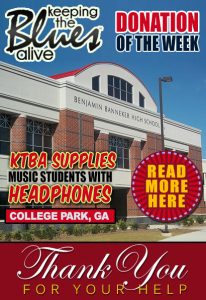 college park, ga – Thanks to your donations this past week, Keeping The Blues Alive Foundation made a donation to Benjamin E Banneker High School in the form of headphones!
Mr. Joe Buffington, ran a tight ship when it came to his standards-based classroom.  From the time the students stepped into the learning environment, they were totally engaged in his regiment.  After completing a daily assignment, students were directed into both individual and group workstations.  All they needed was a classroom set of headphones so they could concentrate on their tasks without bothering their peers.
As a Title I school, resources for Banneker High School were limited for these teachers to acquire the supplies needed to execute efficient lesson plans.
The teacher explained, "The acquisition of a class set of individualized headphones for each student who has access to a lab computer [would] allow for the maximization of the learning potential without distractions, not only for my lessons but for other activities, like preparations for the SAT… Being able to squelch noise and focus listening is only one attribute of this project.  These head phones [would] also be used in the music production room and video production areas of the lab.  Hopefully, we will see an increase in test scores with more focused listening, accompanied with more learning, which will eventually make a more productive citizen."
Keeping The Blues Alive Foundation and AT&T Aspire, pitched in to help Mr. Buffington's class.  Their project aligned with our mission to offset the costs of restoring and rejuvenating music education programs  across the country.
Now, these students will be able to learn their material in a proper learning environment, free of extraneous distractions!
Thanks again to those who donated to our fund, and also those who share our success stories online!  It really helps us grow when you promote what we do for music programs.