KTBA Goes 2-0 in Donations This Week
atlanta, ga – Thanks to your donations this week, two schools were able to receive supplies and music for their music programs!
Mrs. Brooks, the music teacher at Charles R Drew Charter School in Atlanta, GA, sought to expose her students to the art of jazz.  Following jazz month would be tough however, without the appropriate charts to read!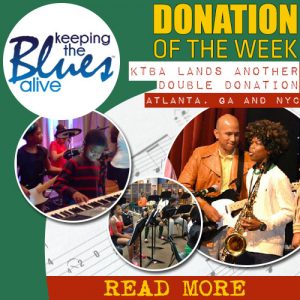 Alfred Publishing, one of the country's most trusted and leading music publishers, offers a variety of learning tools and supplements for music programs!  A family owned and operated publisher, Alfred has been producing charts since the 1920's when songwriting and publishing was booming throughout New York City.
The students of Charles Drew are extremely excited and eager to approach the genre with dedication and determination.  Brooks explains her intentions of the program:
Next year, I am looking forward to expanding our band program to include a jazz ensemble, increasing the need for jazz repertoire. Jazz band members have been selected, performances have been scheduled but, unfortunately, our current music library does not contain any music for our newly formed ensemble to perform. Students will be able to use the jazz band music both at home and in rehearsal. In addition to preparing the music for performances, students will be expected to complete jazz theory assignments at home so that rehearsals can focus on the application of their theory knowledge in an ensemble.

This project will allow me to expose my students to a new culture of music that is rich in history. Jazz encompasses everything from late 19th century ragtime to modern fusion, giving my students the opportunity to learn, practice and study a variety of styles.
 Thanks to the support of our donors, Mrs. Brooks will receive the sheet music she needs to start a jazz ensemble!
Dear Keeping The Blues Alive Foundation,

WOW!!! My kids and I are astounded by the overwhelming amount of support we have received for this project. It is a wonderful feeling to know that there are so many people who are willing to advocate for young musicians.As a music educator, of course I am a huge advocate for music in our schools as well. Now, thanks to your generous support, this project will allow me to continue to instill knowledge and an appreciation, not only for music, but for history and culture. Your gratitude is greatly appreciated and will always be remembered.With gratitude,
Mrs. Brooks
new york city, ny – With the leftover donations, we contributed to another fundraiser, but this time, we took to a studio school in New York City that was once displaced by Hurricane Sandy!
Mr. Heimbauer explains: "My students live in a high poverty section of Rockaway, NY that was completely devastated by Hurricane Sandy. Our school was flooded and we were displaced for a month. The community is still getting back on its feet after losing dozens of homes and businesses to fire, and countless others to flood damage. Students also lost the boardwalk and beachside parks that they once would play at."
"My diverse group of kids have jumped at the opportunity to express themselves through music! We have since written original songs about what happened and songwriting has become a focus in my program as a result. We have performed these songs at re-opening ceremonies and concerts hosted by other schools!  The young children in my program are creative, talented, they have learned to work well with others, and they are eager to learn new things. They truly look forward to coming into my classroom to explore musical possibilities, and you can see their enthusiasm in our performance videos at youtube.com/user/watersidestudiomusic."
With the remaining donation money, Mr. Heimbauer received two (2) combo amps a guitar strap and new strings!
Dear Keeping The Blues Alive Foundation,

We did it! Your generous spirits are directly responsible for bringing our music program to the NEXT LEVEL!Our kids will now be able to rock out like professionals, having two amplifiers that can bring the volume to a real performance, and the locking strap will make sure no accidents happen with our cherished instruments!They are going to be so excited and I cannot wait to begin putting together our thank you package!Your kindness is inspiring to myself and the children of my school community. You are setting such a great example for fostering the quality of generosity and compassion, in the hearts of my students.

With gratitude,
Mr. Heimbauer
To make a donation to our next music project click here!  Thank you for your support of music education!