omaha, ne – This week, we celebrate another accomplishment for the nonprofit by informing our readers about another double donation to a pair of young music programs!
The first school, located in Omaha, Nebraska was in desperate need for a new guitar and classroom accessories.  According to Mrs. Lawrence, Bryan Elementary School is embracing music in the curriculum; Students enjoy sixty (60) minutes of music instruction each week.  However, she is unable to afford music instruments with her current budget.
This classroom guitar project will allow Mrs. Lawrence the opportunity to teach a history of the guitar, and teach them chords to accompany their peers in signing exercises. The accompanying book of Children's Folk Songs will be a great addition to her curriculum.
Pulling from the donations brought in this week, KTBA and its donors made her wish come true.
Dear Keeping The Blues Alive Foundation,

I would like to take a moment and thank you for funding my project. My students are going to be so very excited about the new guitar! We are going to have a wonderful time learning by singing with and playing our new instrument.There are so many incredible benefits of learning music at a young age. I believe it is vital for every child to have a solid music education during their elementary school years. Your donation helps make this possible for my students. Thanks again! With gratitude,
Mrs. Lawrence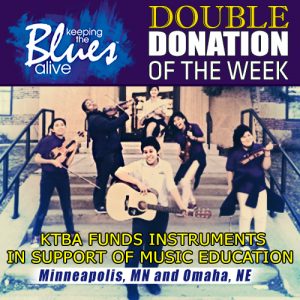 minneapolis, mn – This cymbals project, submitted by Ms. Winslow at Adelante College Preparatory in Minneapolis, was a plea for crash cymbals for their new in-school band.  Recently hired to create and oversee the school's new band program, her mission was to ensure a high quality music education curriculum for her students.  Now in 6th grade, they are ready for more challenging material and especially music with varied instrumentation.  This will help prepare them for auditions at the high school level – but it starts with having the instruments to practice on in the first place!
Minnesota, unfortunately is known for having one of the worst achievement gaps in the country.  Approximately 95% of academy students qualify for free or reduced lunch – of which, 99% of students are African American or Hispanic.  Despite these numbers, Adelante boasts a 100% success rate as their public charter students are on paths to college, and KTBA wanted to be a part of their equation.
Although a small request, percussion instruments were scarce at Adelante, even after a few successful instrument drives for the band program.  Without percussion instruments, students missed out on specific repertoire that would enhance the overall band experience.
Cymbals have a very unique timbre when incorporated with the ensemble sound of a symphony orchestra, wind ensemble, or even a rock band.  It is often used at impact points, accented passages and even swells to add ambience to the overall soundscape.  Having performed in many different kinds of collegiate and professional ensembles, we understand how expensive percussion equipment can be and we wanted to make sure this wasn't the only reason stopping Ms. Winslow from preparing her students for new repertoire in the upcoming season.
Thanks to your donations, we could afford the equipment for her to bring new instruments to her music classroom and fueling the students' passion for live performance.
Dear Keeping The Blues Alive Foundation,

Thank you so much for generously funding this project! It was such a welcome surprise, as we wrap up this school year and prepare for next year's band program.We're aiming to provide a robust, high-quality band program for our students, by providing all instruments and equipment. Having quality instruments in our percussion section will allow our students to feel valued, have pride in the equipment they use, and have an authentic band experience.Thank you so much for your contribution to our endeavors!With gratitude,
Ms. Winslow
This weekly donation process is our consistent way of giving to music education programs across America!  If you would like to donate to the next project, click here!