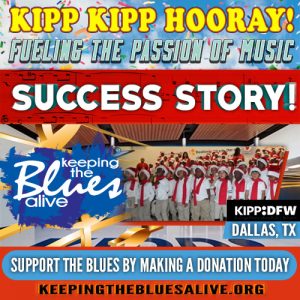 dallas, tx – Fueling the Passion of Music!  That's what this week's donation story is all about.  Then again, when is it EVER about anything else?
Thanks to your donations, Keeping The Blues Alive was able to connect with the scholars at KIPP – Destiny in Dallas, Texas.  Founded in August 2013, Destiny became the first elementary school in the KIPP DFW Region.  In accordance with their scalable growth strategy, they are adding another grade level each year.  As a result, the school now enrolls 1st grade students, with second grade to be added next year.  This will continue until they house Pre-K to 4th grade by 2017!
Because of open enrollment, the students that are granted admission to the programs come from different socio-economic backgrounds.  However, the strict consistency within the hiring process provides great stability once the students are guided through the program.  Teacher roles are expanded – allowing them to take charge and implement creative learning strategies for the kids.  Mrs. Shanandolan Ward, the founding Music & Movement Teacher, elaborates:
"My KIPPsters are so amazing! The students here at KIPP come from many different walks of life. All of our 'scholars' are truly driven and dedicated to be the best. Many have already experienced true hardship at such a young age. Our school is truly a second home for most of our scholars. Here at KIPP, we accept all students no matter what their background may perceive them to be. We are truly a team and family, that includes students, parents, faculty and staff."
Mrs. Ward is a true star in her own right!  Before joining KIPP, Natiya Ward was rocking American Idol auditions, BET's Sunday Best, and still properly managing her time teaching elementary music at John W. Runyon Elementary School.  Her passion is pure and evident! We know we have made the right investment in these kids.
Dear Keeping The Blues Alive Foundation,