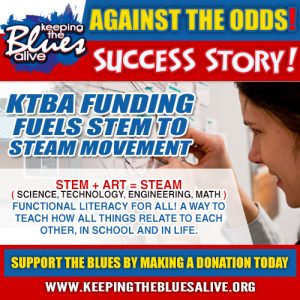 pahoa, hi – As our generous followers already know, Keeping The Blues Alive is no stranger to the STEM to STEAM movement.  We have funded several projects related to the integration of arts – specifically music education – into core curriculum.  That is, after all, the basis of the concept – Using art and design to transform our education system into one that uses child-like creativity and imagination as a key ingredient for innovation.  By marrying the two knowledge bases, younger generations will be able to foster new inventions and elevate our standard of living, while maintaining the culture and national identity that makes up who we are.
Click here to visit STEMtoSTEAM.org!
As we peruse the different project requests curated by DonorsChoose.org, we really focus on the teacher's mission.  What is the teacher seeking to achieve by receiving our funds?  How will the students immediately benefit from the materials requested?  It can be difficult sometimes, for teachers to convey their goals and intentions by a mere online form.  However, more often than not, the most simplest forms of donations are instruments, sheet music, and supplementary materials.
To our excitement, there is an increase of teachers grasping the vision of the STEAM concept.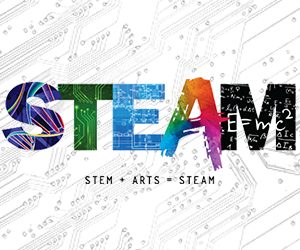 One of those teachers is Mrs. Wells, a fifth-grade teacher at Hawai'i Academy of Arts and Science.
"Though my students are diverse, they share a few common characteristics. They all have unquenchable curiosity about how the world works. They also have another characteristic that ties them together: they all love to express themselves through the arts. As an academy of arts and sciences, students are drawn to our school so they can explore their natural curiosities and modes of expression," Wells explains.
"This unit is STEAM inspired. Students will learn about sound energy through inquiry-based activities. Each student will use what they have learned in science (sound energy) and math (ratios) to construct a xylophone-type instrument with the materials requested in this project (fluorescent light sleeves and rubber balls for mallets.)"
As students engage in the different aspects of sound production, they will discover their strengths and weaknesses amongst their peers in a group setting.  But it's not just about the scientific discoveries and mathematical characteristics of the project that make this unit so enticing.  It's the fact that they are building music instruments in the process.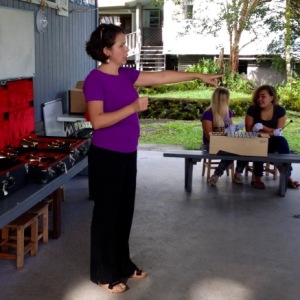 For the music portion of the unit, students will interpret note values by way of fractions (every musician understands the relationship between music and math).
As a class, the students will compose a rondo (a musical form consisting of a recurring theme and variations) to perform.
There is even an art component, where students will learn about the Golden Ratio and create their own original art pieces using this principle.
At the culmination of the project, students will present their works, but they will have the option to choose which group they would like to present in – some will choose music, but others will choose to present with the science kids, math or art – whichever group they feel most driven to contribute.
The innate sense of camaraderie that exists in STEAM projects is astounding.  Students can contribute and excel in different areas of the project – a real-world application to many every day problems.  Much like building a house, there is a common goal amongst all the workers although some are specialized in architecture, plumbing, some in laying the foundation, some are carpenters and even the real estate agent – they all play important roles in the construction of the house.
Mrs. Wells received funding for her STEAM project and left her sentiments.
Dear Keeping The Blues Alive Foundation,
We take this time to encourage anyone reading this, to please share this message with your colleague who went on to teach music.  Engage with us on Facebook, and give us your feedback!  We have a firm belief in the power of music in our schools.  Mrs. Wells and her class are shining examples in which music and arts will continue to empower students to innovate – not just replicate – in their perspective subjects of interest.