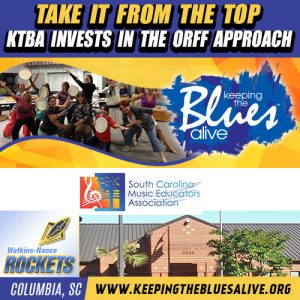 columbia, sc – Thanks to your donations this week, Keeping The Blues Alive Foundation was able to make a contribution and send a faithful music teacher to an Orff-Schulwerk Training Program.
This, as last week's donation, was a hats-off to the Bill and Melinda Gates Foundation Pilot Program for sowing into teachers' music education programs.  By matching our donation, Watkins-Nance music students will be enriched by the growth of their new-found music teacher's knowledge of Orff training and music theory.
Mrs. Wylie, the school's music teacher exemplifies the kind of drive we wish to see in all teachers of our communities.  After graduating from Lawrence University (Appleton, WI) with a dual-Bachelor's degree in Piano Performance and Music Education, she was hired as a music education teacher while continuing to teach private lessons.  After two years, she went back to school after accepting her admission to the University of South Carolina.  She has completed her Master's degree and is currently enrolled in their doctorate program.
Beyond the pomp and circumstance, Mrs. Wylie's passion has been realized as she wades through the turmoils of the public education system.  By applying herself to the trusted methods of legendary composer (Carmina Burana) and music education pioneer, Carl Orff, she will earn her Level I course certification.
Why the Carl Orff Method?  Carl Orff was a german composer and music educator in a time of great revolution and discord. He defined the ideal music as "never alone, but connected with movement, dance, and speech – not to be listened to, meaningful only in active participation." In other words, music is to not only be heard, but felt in a cooperative learning environment.  By using music, speech and movement, students are exposed to a more wholistic approach to understand music and connecting with it – it is a powerful testament to the notion that music is an innate gift to humanity – no matter their race, sex, origin or environment.
In today's music classrooms, there is a wide range of teaching methods that can vary especially from state to state.  There is, of course, standardization, but each teacher and school have their own interpretation of how they would be implemented.  This is also due to the varying musical outlets and state/federal funding opportunities for programs such as marching bands, theater groups, and choirs both scholastically and through the community.
One method that is extremely common especially amongst children between the age groups of 3 and 9, is the Carl Orff method.  Additionally, his method of encouraging movement and hands-on activities encourages physical activity in a time when childhood obesity is skyrocketing.  In many ways, we hope that more teachers engage themselves in these practices so that it becomes a part of standard curriculum.  There is always room to progress in this field, and of course, this is only one method amongst the modern approaches to teaching.  The Carl Orff method is one that has withstood the test of time, and has made its way into the standard practices for music education degree-seeking college students.
Thanks to the donations received, we were able to send Mrs. Wylie to this training certification program at Winthrop University in Rock Hill, South Carolina.
This Level I training certification program will take place in the summer –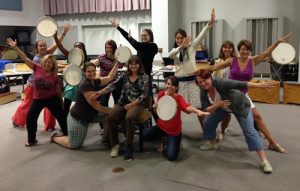 unbeknownst to the students – between July 13th and the 24th. The boot-camp, if you will, will start off with opening warm ups, songs, movement, and then get straight into music theory principles.  They will re-take recorder methods and pedagogy, and incorporate music and vocabulary for students needing this reinforcement.  Teachers will have open discussions and have the opportunity to lean on esteemed colleagues for advice, encouragement, and inspiration.
No one understands teaching like the teachers we have certified through our higher education systems.  At the time we need it most – when students are immersed in social media, mobile technology and even virtual reality simulators, etc., – we can sow into the teachers we trusted to guide our young students.  We must invest in them like never before.  These are the people who see your kids, sometimes more than you will in a week.  They are influenced by their peers and their environment every day; Let's empower our teachers with time-tested strategies and equip them to handle the over-stimulated youths of today and allow music programs to shape them into diplomatic, critically-thinking yet creative individuals that will solve life's greatest challenges.
If you feel empowered by reading this, and wish to contribute to our cause, please click here to make a small donation to our foundation!
Thank you for Keeping The Blues Alive, and for helping us pass the torch to the next generation!