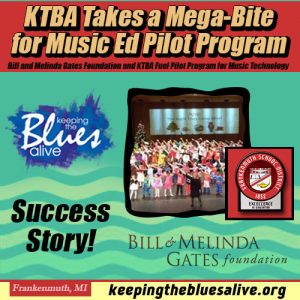 frankenmuth, mi  – Thank to your donations this week, Keeping The Blues Alive Foundation and the Bill and Melinda Gates Foundation support this pilot program for music technology!
"As a 30 year veteran teacher, I feel that in order to be as fresh as my students, as knowledgeable as a college graduate, and as dynamic as I personally expect myself to be, then I need to stay in-tune with not only education as a whole, but the ever-changing world of technology."
These were the words from music teacher, Mrs. Putnam of List Elementary School as she prepares for a big conference in Boyne City!
"I am a K-4 grade music teacher and a high school vocal music director. I see over 300 students a day. My average classrooms have around 40 students, but are combined to perform musical performances. My classroom is dynamic and ever-changing as I may teach a lesson which involves students singing, playing Orff instruments, and moving in a dance or game, all at the same time. My students love music class, and are highly energized by the daily exposure."
Mrs. Putnam's lessons are taught by combining literature, art, dance, and technology. As music advocates and supports of the STEM to STEAM movement, we were particularly drawn to this project as it incorporated so many subjects of the core curriculum into its success!  Teachers are working together to combine their resources and curricula to cater to the music and arts programs that are slowly fading.
This funded project will stimulate creativity, collaboration, and enthusiasm into the classroom – something that is always necessary for students to grow.
Thanks to KTBA funding and the Bill and Melinda Gates Foundation, Mrs. Putnam will be attending the Boyne City Technology Conference on June 19, 2015.
This conference costs $40 and in order to stay within the limits of this project she will pay this portion on her own.
The fine arts have great opportunities to transition the every-day classroom into a vital and growing class of exploration, knowledge and creativity. Mrs. Putnam wishes to continue this learning, and be able to implement it into the classroom so that it is a class that demonstrates the combination of singing, instruments, movement and technology.
By learning how to implement musical apps into the classroom, she can put students into stations and assess individual and whole group growth using the combination of technology and musical knowledge. Students will be able to connect piano keyboards with online apps and learn music theory principles.
With a fully funded project, Mrs. Putnam and her students will be set up for success in the music technology area!
Dear Keeping The Blues Alive Foundation,