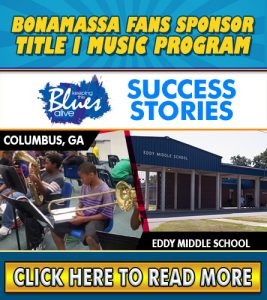 columbus, ga – Thanks to your donations this week, Keeping The Blues Alive Foundation was able to go into a middle school and help fund their music project for a new flute in their woodwind section!
As we are all aware, playing a band instrument can open doors for many students, especially in rough areas. They are given an opportunity to perform for their peers, go on trips and excursions/contests, and show their pride to their family and friends.
Mr. Claiborne explains: "This flute is a student-model flute that is perfect for the beginner or intermediate student. The flute will allow a student to learn how to use it in class, give performances, and practice everyday. Playing a flute will allow the student to learn to develop work ethic and discipline to practice a skill set."
Mr. Claiborne takes the time to teach the students how to take care of their instruments and how to prevent damage. "Additionally, I help them understand that pride comes after hard work and teamwork. I love to see the expressions on their faces after they have mastered their first few notes. The more instruments our school owns and loans to our students, the more students can participate in musical experiences."
Thanks to the donations form Joe Bonamassa fans, Keeping The Blues Alive successfully funded the project in a timely manner!
Dear Keeping The Blues Alive Foundation,