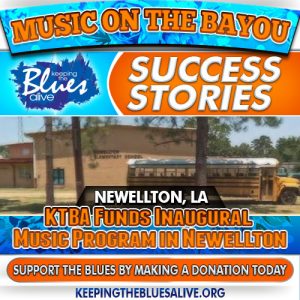 newellton, la – Thanks to your donations this week, students in Newellton, LA will have the chance to experience their first music program in the little town of Tensas Parish.
The students of Newellton Elementary School are vivacious individuals that animate the beautiful country-side of Newellton, Louisiana. They are very vocal about their needs and wants. They hunt, fish, and perpetually explore the world around them. The school they attend works very hard to mold their desire to grow.  Although the community does not have a lot of money or resources, the people come together to provide for themselves and their loved ones. It truly is beautiful to see people come together for a common good.
Mr. Thomas explains, "I have learned so much in my short time here, and have been inspired to contribute to the development of the community. That is how powerful my students, the school they attend, and the community of which they are a part, are."
As a result of a donation request made by Mr. Thomas via DonorsChoose.org, he requested a classroom set of recorders in the key of C, complete with the lesson books and music stands they needed.  The goal was to start a beginners' music program wherein they would be able to participate in structural music activities as well as grow as individual musicians despite the lack of project funding through the school's current fiscal budget.
"The students will learn the rudiments of musical notation and theory, putting to use their newly greater understanding of sound with a recorder.  By the end of the year, 4 young ladies and 9 young gentlemen will be able to play simple melodies on a recorder and identify basic musical notations," Mr. Thomas adds.
Recorders may not seem like much to the average person reading this, but musicians and educators know the importance of starting out with this program because it teaches many fundamentals of music notation, breath control, discipline, and ensemble techniques at an affordable cost.  The recorders used in most 3rd grade classrooms are a gateway program to introduce students to the joys of music and camaraderie amongst their peers – catapulting their other studies as well as attendance.  These factors snowball into higher graduation rates, attention spans, and peer relationship building as the students grow older.
Thanks to the donations raised, thirteen students will get to take part in music lessons and ensemble rehearsals at Newellton Elementary, and they are excited to begin as soon as possible.
Dear Keeping The Blues Alive Foundation,