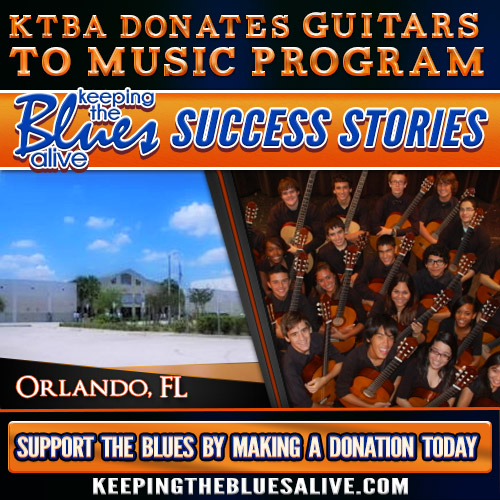 Orlando, FL – Thanks to your donations this week, Keeping The Blues Alive Foundation donated new guitars to Freedom High School!
Freedom is a high profile high school guitar program containing 180 students. Their guitar curriculum offers seven classes including four guitar ensembles, two beginning guitar classes and a guitar conservatory class for students wishing to go to college to become performers or teachers on guitar.
It reminds us of the standard conservatory much like a Musicians Institute or similar, but for high school students.  We are all familiar with "Performing Arts Schools" in general, but the core curriculum offered at Freedom, describes much more than the name suggests. Mr Perez explains:
"We are an "A" rated community high school that is home to over 3200 students. Though we have over 50% of our student population on the "Free & Reduced Meal Program", that has not deterred our school from becoming an academic leader. Our guitar program is recognized in the international guitar community. Over the past several years our students and ensembles have performed three times at our All-State Music Conference and recently traveled to New York to perform in concert at an international guitar festival. All of our students in the guitar program care about becoming wonderful musicians and people. We possess a musical collectivism and positive outlook that allows us to grow and perform at a continuously high level. We had the deep privilege and educational opportunity to perform in concert with five international level classical guitarists over the past three years."
Freedom High School had a class set of 35 classical guitars that our students use. They were used seven times a day, 6-7 hours each day, 180 days a year. With the amount of use the guitars receive each day, their equipment wore down quickly.
"We do not have enough in our budget to purchase new guitars to replace the older ones. There is a noticeable difference in sound and playing ability when my students are using newer guitars. From our beginners learning to play to our most advanced students and ensembles performing professional level material, having newer classical guitars will help them reach their musical and personal goals."
As a result of the fundraising from this past week, Keeping The Blues Alive was able to supply the school with five new guitars!
Dear Keeping The Blues Alive Foundation,