Elementary School Students Receive New Guitars for Music Program!
MAXTON, NC – Thanks to the donations from supporters like you, Keeping the Blues Alive Foundation donated three (3) new guitars to the music students at J. W. Arnold Elementary School!
About the Teacher and her Students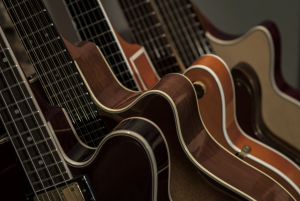 "The students that I teach are eager to learn music," say Ms. Saxton. "They are an awesome group of students who love learning about music. When the students come into the music room, they have so much excitement and joy for music that they always put a smile on my face. The students I teach go above and beyond the expectations that I set for them. The students I teach are always willing to help each other become the best music students.
They love to come to music class because they will get a fun experience learning about music. The students I teach are so excited to learn that they always look forward to coming to music."
About the Project
"If my students receive the guitars, they will be able to learn how to perform on instruments alone and with others in different varieties of music. Students need to be able to play by themselves and with others in order to see if they can understand what is being taught to them. They will also be able to understand timbre which is the sounds the guitar produces when it is being strummed."
Attitude of Gratitude
Thanks to the support of music lovers and donors like you, Keeping the Blues Alive Foundation was able to fund Ms. Saxton's project and the guitars are in good (little) hands!
Ms. Saxton expresses her gratitude:
Dear Keeping The Blues Alive Foundation, Inc.,

I would like to thank you for making a donation towards my project. Because of your generous donations, my students will have the opportunity to learn how to read music while also learning how to play the guitars. Again on behalf of myself and my students, we can't thank you enough for donating to my my project. You are simply the best!!

With gratitude,
Ms. Saxton
Support our Weekly Donation Program
Every week, Keeping the Blues Alive makes a donation to schools in need of music instruments, supplies, sheet music, and more. Beginning as far back as 2015 (and pausing in 2020), we had been increasing the amount of weekly allocations. Now, we're getting back on track with our weekly contributions but we do need help to keep this program afloat! So far, we have funded over 550 projects and we anticipate being able to hit 600 this year! BIG NUMBERS!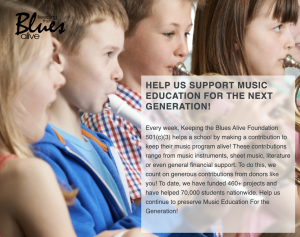 If you enjoy seeing these weekly donations to classrooms across the country, please consider becoming a monthly donor to support this mission.
Thank you for keeping music alive in schools!