KTBA Success Story: Instrumental Method Books Donated to Junior High School Ms. McAlester Thoreau Demonstration Academy
Shawn Hagood for Keeping the Blues Alive
TULSA, OK – Thanks to your donations, Keeping the Blues Alive Foundation donated a classroom set of instrumental method books to the music program at Thoreau Demonstration Academy!
Due to its varied economic status, more than half of the students at the school come from low-income households. After the previous band director left the school, Ms. McAlester took over a program full of students who were ornery, disappointed, and afraid of what the future held for the music program.
"Once they realized that I wanted the best for them and that I truly cared about them, they saw that they had the ability to improve their skills," Ms. McAlester explains.
However, Thoreau was seriously underfunded in regards to a music budget.
"I have instruments that are so old they cannot be repaired. I have had to borrow instruments from other schools in my district because I've grown the program so much in two years that I did not have enough physical instruments for all of my students. I wanted to get my 8th grade group a class set of method books. We have NOTHING like that here and by 8th grade, they are advanced players and should be able to play at a much more competitive level."
Thanks to the generosity of Joe Bonamassa fans and music lovers like you, Keeping the Blues Alive was able to afford an entire set of music instrument method books that they will be able to distribute amongst the entire ensemble. This includes brass, woodwinds, and scores!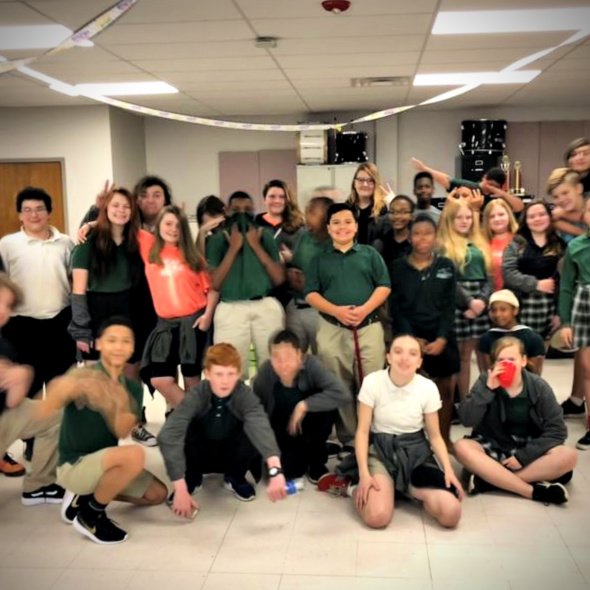 Ms. McAlester expresses her gratitude:
Dear Keeping The Blues Alive Foundation, Inc.,

I have been in tears for 30 minutes because I just can't even begin to thank you enough. These books are a game changer. Thank you, thank you, thank you! You are giving these students a key to unlock their potential. You are giving me the tools I need to make these students succeed and for that I am forever indebted to your kindness.

With gratitude, Ms. McAlester
Every week, Keeping the Blues Alive Foundation makes a donation to a school in need of music instruments, supplies, sheet music, and more! Your donation helps us to keep music in schools, while preserving blues heritage.
If you would like to help us fund next week's project, click here to make a donation! All donations are tax-deductible!
Thank you for keeping music education in schools!
P.S. Stay on the look-out for upcoming pledge opportunities for Giving Tuesday (Nov. 27th), the Tuesday after Thanksgiving. Giving Tuesday is the BIGGEST nonprofit fundraiser of the year and we would love to have your pledge! For more info, follow us on Facebook! Thank you in advance for your participation!