Miramar, FL – Thanks to your donations this week, Keeping The Blues Alive Foundation made a powerful donation to Somerset Academy, allowing these students to purchase new instruments for their band program!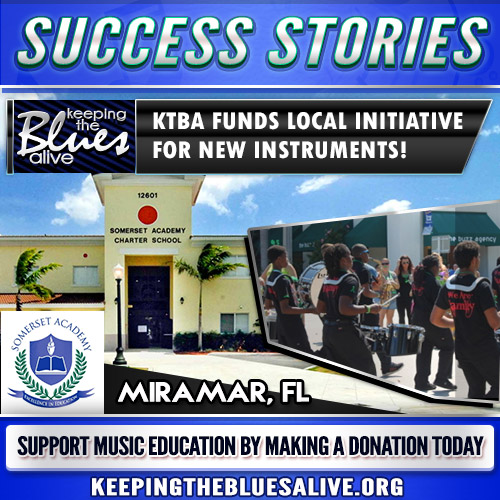 Building a presence in the local community has always been a goal for us here at KTBA, and this opportunity allowed us to sow a seed into an already growing music program.
Ms. Jackson, the school's band director, describes her involvement with the band, and tell us about the materials in question:
"My students range between the ages of 12-18. I have over eighty students in the band, which is one in eight students for the whole school. I also teach over eighty students for the Chorus program. I started with a total of fifteen students, and in less than four years have built this entire music department through sheer determination. I'm always excited to go to school each day to inspire the students to not only be amazing musicians, but to be amazing people in life."
As the budgets have diminished for music and arts programs over the past decade in the U.S., teachers struggle to keep up with the demand for more instruments and materials to keep their curriculum growing.  This causes the teachers to look elsewhere for funding of these programs, and that is where Keeping The Blues Alive can step in.
Ms. Jackson, requesting a standard Bb tuba, a pair of orchestral cymbals, and a standard gong set, is not a lofty request for a band program of her size and stature.  Using the funds available through donors like yourselves, KTBA purchased these items through DonorsChoose.org.  Now Ms. Jackson can look forward to all of her instrumentation being covered in the upcoming concerts, and the students can have an additional sense of pride for the upcoming semester as they see more and more being poured into their music program.
Ms. Jackson expresses her gratitude to the donors involved!
Dear Keeping The Blues Alive Foundation,

I cannot express my full gratitude in providing funds for our resources, but this thank you note is just a start. It is with humble thanks and praise for your generosity. Please know that we will utilize the needed items for our classroom use and use outside of the classroom for special performances. My students are amazing kids who have worked really hard to build a music program from scratch. It is a joy to see their love for performance and musicianship grow throughout my time with them. They are some of the most talented students I have ever worked with. These resources will provide a great need for our program.Thank you once again for your thoughtful gift.

With gratitude,
Ms. Jackson
One of Ms. Jackson's students will be particularly thrilled to hear this great news!  A young man wanted to participate in the band program so much, that he learned how to play the baritone (a euphonium instrument) in an effort to contribute to the low end of the band's sound.  He will be the first student in mind when the tuna arrives, and we are certain that Ms. Jackson and her band class will have some exciting concerts to boast from this experience.
Happy New Year!  We are off to a great start!