KTBA Purchases Equipment For Elementary Chorus
norway, me – We are almost done with the first quarter of the school year, and for many music teachers across the country, they are feeling the year-to-year changes in the curriculum, their new students, and of course their budgets for music education projects.  For Mr. Hamalainen – an elementary chorus teacher in Norway, ME, the budget cuts hit him a little more directly than he anticipated.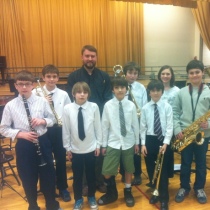 Ask anyone what a chorus concert looks like and they will probably tell you the same thing. Parents are watching their little angel(s) singing (well… fidgeting and looking sweet as can be while attempting singing along with their peers), phone cameras everywhere (capturing these one-day embarrassing moments for all time), a choral director up front making sure it all stays together, while standing next to a piano with an accompanist.
This year, however, Mr. Hamalainen was a little bummed out because he realized he would not be able to accommodate a piano accompanist.  Instead of burying his head and canceling shows, he decided to take this opportunity to get more participation from the students by making THEM accompany their own chorus.  By using the traditional rhythm section – guitar, bass and drums – the kids would need to step up and provide the musical backdrop for the choir.
Mr. Hamalainen explains:
"My goal is to have more students take charge of 'accompanying' the chorus with guitar, bass, and drums.  My students are energetic, enthusiastic young musicians. We only have chorus rehearsal once a week, but they love to remind me how that is not enough. They enjoy performing a wide range of styles, from the most traditional choral pieces to contemporary pop tunes."
Using an old drum kit that was donated a few years ago and some eager two-part singers, he began re-arranging the instrumentation of the songs to fit the new choir.  Isn't it interesting and inspiring how musicians and artists can take lemons and make lemonade…?
Well, your donations helped sweeten that lemonade by replacing the old broken bass drum head, a new hi-hat stand (since the old kit did not already have one), and some brushes to jazz brushes for light accompaniment!
Upon hearing the good news, he wrote us a note and thanked all of you who donated:
"Thank you so much for your generosity!  The percussion equipment that I requested will be put to great use.  The drum set in my classroom is used every single day (despite the missing pieces).  Now that it will be a fully functioning set, we will be able to do even more." – Mr. H
Thank you to the donors who have helped us keep this foundation going! We are constantly thinking of new ways to streamline everything we do, and we always need help fundraising money!
If you would like to give at least $10 towards one of these music projects, PLEASE CLICK HERE to be taken to our Causes.com campaign to finish funding music projects for the rest of the year! If you cannot give, please share this campaign!
Thank you in advance for your support!