gillette, wy – Thanks to your donations this week, Keeping The Blues Alive Foundation was able to donate a classroom set of early learning materials to Mrs. Mayo's general music classes in Gillette, Wyoming!
These K-6 students are in a Title I school which means that many of them come from disadvantaged and under-funded areas within the school district.
Mrs. Mayo sought age-appropriate learning materials to expose her children to musical concepts, as many students are not exposed to music at home.
Why use Freddie The Frog books?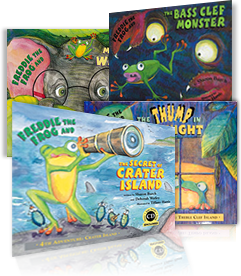 "Freddie the Frog introduces pre-readers and early readers to reading music in an engaging way.  [For example,] each book uses notation or a music concept in the story.  Book 1 uses notes on a treble clef, book 2 [uses] notes on a bass clef, book 3 [discusses] tempos, rhythms and beats.  Book 4 completes the notes on the treble clef and book 5 introduces Jazz, etc.  Each book has interactive manipulative to enhance student learning" Mrs. Mayo states.
In addition to the interactive story books, the package also includes various teaching supplements such as flash cards, a rhythm board set, and even a hand puppet!
"Children just love books, and all students enjoy having a story read out loud to them. By using the Freddie the Frog books, I will have another medium to help students learn music notation. The concepts in the series are introduced in a manner that is not intimidating to students with no musical background.  This will enable all students the opportunity to learn music notation."
"We were thrilled to be a part of this project because the younger you expose children to these concepts while their learning curve is so diverse, the greater chance of them maturing into adolescence and adulthood harnessing these skills and more importantly, applying them!"
Because of the generosity of many, Mrs. Mayo and her students will have an opportunity to grow together musically, and learn valuable teamwork skills along the way.
Dear Keeping The Blues Alive Foundation,
Thank you so much for funding my project. Your foundation's purpose of helping fuel the passion of music is something that I strive to achieve everyday in my classroom. Music literacy is one way we can help students become lifelong independent music advocates, consumers, and participants.
These resources will help enable my students to understand the foundations of music notation and bridge the gap to different musical applications. In addition I will use these materials to introduce music notation, tempos, and jazz in my curriculum and I look forward to the success students will have in class.
I hope to share these lesson ideas with my colleagues so they too can benefit.
Again, thank you for supporting music in our schools!
With gratitude,
Mrs. Mayo
To fund next week's music project, click here to make a small donation!
Thank you in advance!