LOS ANGELES, CA – Music educators and even after-school program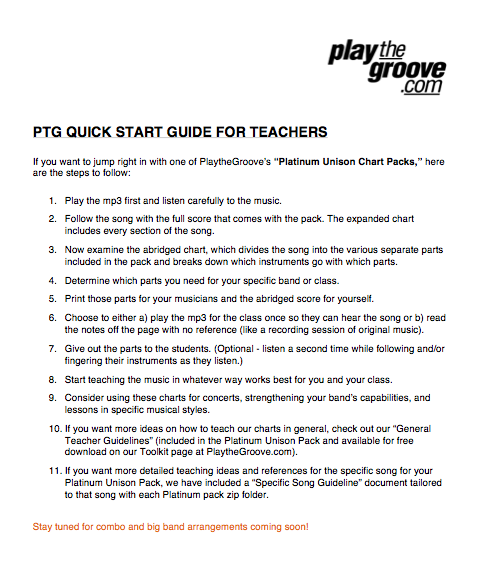 leaders have another way to teach contemporary music to their students in classrooms and in private lessons!  PlayTheGroove, a SoCal startup company known as a "digital music chart distribution company" unveiled is curriculum yesterday which consists of downloadable music charts and mp3s of various styles of music ranging from jazz to latin and other world genres.   Ideally, teachers can download these supplementary materials and distribute them to their students.  The charts and mp3s save the teacher a great deal of time and research, as other acclaimed musicians have selected and broken down musical concepts that the teacher can reinforce in their own way.
Performing artists who wish to contribute to this curriculum can submit an inquiry via their website at PlayTheGroove.com.  Additionally, music educators and program leaders are encouraged to check out the website and learn how PlayTheGroove can supplement your teaching methods of contemporary styles.
This is just one example of the many modern alternatives to providing music education at a minimal cost to local school district administrators and fiscal budgets.  Do not let your school tell you that music education is expendable because of money.  We will be the first to give you countless examples as to why they are wrong!
Read about their philosophy here.
Their promotional video is below.  Founder and CEO, Richard Frank and his team have been working for eight full months developing a system and curriculum that works, and we think that they are on the right track to rescue music programs all over the country!
For more information contact PlayTheGroove at playthegroove.com.  You can contact Richard Frank at 818.514.4784 or email him at richardfrank@playthegroove.com.