Once again our generous donors took a stand for music education by completing a week long campaign supporting music programs in the United States.
This week, Keeping The Blues Alive Foundation made two donations to music projects based in Mineral, VA and Lakeville, MA!  Read about them below:
MINERAL, VA – The small, small town of Mineral, VA is home to under 1,000 people.  Rightfully named, Mineral boasts the proud families of an old mining town that used to support the community by mining for gold and other minerals.  In fact, the C&O Depot still stands at the intersection of 1st St. and the 522 – a historical landmark in American history.  Even further rooted in the heritage of the town and its elementary school, Jouett Elementary, is the tale of Jack Jouett, the Virginian Paul Revere!
To read more about the legend of Jack Jouett click here.
But beyond the rich history and blue collar pride that runs through the town, there's a stronger sense of resourcefulness that they share.  Mr. J. Stehle, an elementary music teacher at the school, says that the students at [Jouett] are hard working, focused, and driven to

succeed.  "[The students] do not let a lack of resources stop them from learning as much as possible. My school is proud to offer students with as many opportunities as possible! The music program offers a before school chorus option and a before school percussion ensemble."  Clearly, these kids mean business.
When we learned about the need for more percussive instruments for the percussion ensemble, we were even MORE shocked at the fact they weren't even asking for your typical band instruments.  These are "Build Your Own Bongo Cajon" kits.  Yes!  Apparently, you can buy a DIY kit with the appropriate components of a bongo cajon, and build it yourself – kind of like going to IKEA but for music instruments.  I saw them in Germany last week, and had no idea how popular they were becoming in the States!
Now, music teachers have a cost-effective way of outfitting their music classrooms with hands-on building projects that result in musical instruments.  Keeping The Blues Alive is a strong advocate for the integration of core subjects in music classrooms (and vice versa).  This is such a wonderful and selfless opportunity to incorporate math and tactical craftsman skills in the music room.  Furthermore, once the instruments are constructed, the students will be able to decorate the instruments (hello art class?) and then get to the good stuff (the music)!
"Our classes will learn songs and rhythms using the bongos that will expand on our musical knowledge and appreciation of music!  We will play in several different styles with our new bongos expanding our understanding of the world and [its] many different cultures.  Thank you very much! We hope this connection will fuel a passion for creative construction of more musical instruments that can help us learn more about the music we love so much!" – Mr. Stehle
We are very excited for Mr. Stehle and the classes at Jouett Elementary.  The only thing that could have made this donation sweeter, was if had money left over to give – … oh wait.  We did!
LAKEVILLE, MA – Five hundred miles northeast of Mineral, is the lakeside city of Lakeville where we linked up with Assawompset Elementary School.  They were looking for sponsors to fund new mallets/music makers called "Boomwhackers."
*** By the way, If you are in the mood for a laugh, PLEASE watch this video of Boomwhackers in action.  I'll admit – if these young aspiring teachers can whip up a harmonious cover of "Call Me Maybe" using Boomwhackers, then our kids' futures look extremely bright!
If you have never heard of Boomwhackers, we understand.  The concept is simple; If you want to reach kids at the elementary level, and you don't have the resources and financial ability to start your own band program, then encourage kids with stimulating pitched percussive instruments to spark their curiosity.  They're inexpensive, they're fun for all ages, and it allows the students to be active in the music classroom while learning many of the same principles that traditional programs teach.  Particularly, emphasis is placed on rhythmic values, but the added element is the fact that the tubes are pitched to different notes.  The notation primarily symbolizes songs  on the treble clef – mostly notes from "middle C" and above.  We assume the pack would come with a songbook for students and teachers to follow, but contrarily, the teacher would be overly capable of writing out music for them if necessary.  In some ways, it's imperative that the teacher be involved with the songwriting process so that students can learn recent pop tunes and folk songs that would not be covered in a standardized textbook.
By using the donations that poured in this week, Keeping The Blues Alive and several other anonymous donors chipped in to purchase a classroom set for Mrs. Eacobacci's room.
It is our hope that by encouraging and supplementing music teachers' projects, they will continue to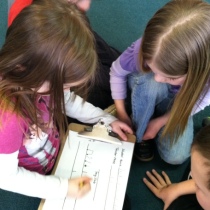 fight for their programs, and know that foundations like us, like Save The Music, and others exist to help them.  Never give up on music and arts. When we give up on music and arts programs, we close off our children's minds to a creative and inspiring world that is all around us.  We need creative thinkers -not just mathematic and scientific thinkers – to help us solve the world's greatest problems.  We give ourselves a chance to succeed, when we give our kids every opportunity to be their best.
To make a donation and fund a music project for next week, please click here! Every bit helps!