November 11 – 17- Birthdays
November 11 – 17 – Birthdays – This week's birthdays are Booker T. Jones, John P. Hammond, W.C. Handy, Hubert Sumlin, Chris Layton, and Tab Benoit.  Be sure to check back next week for more birthdays!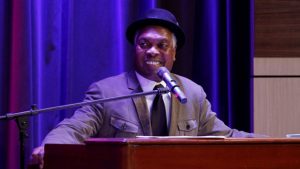 Booker T. Jones: 11/12/1944 
Booker T. Jones was a child prodigy, who grew up playing the oboe, saxophone, trombone, double bass, and piano. Afterwards, he becomes a professional musician at age 16, later becoming the leader of the famed Stax Records house band. As well as the architect of the Memphis soul sound and also one of modern music's most acclaimed figures. Furthermore, he also co-wrote "Born Under a Bad Sign" and "Green Onions". His musical weapon of choice is the Hammond organ.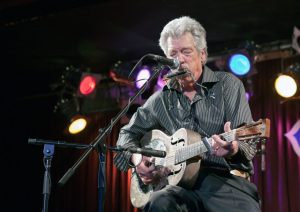 John P. Hammond: 11/13/1952
Blues singer and songwriter John Hammond is born in NYC. Furthermore, he's the son of record producer John Hammond, one of the most influential figures of 20th-century popular music. The younger Hammond starts playing guitar in high school and by the mid-60's he's touring nationally. The Grammy award-winning acoustic blues-rock barrelhouse guitarist has released 34 albums. Lastly, he has performed and recorded with some of the biggest names in blues.  Howlin' Wolf, Jimi Hendrix, Eric Clapton, Muddy Waters, Duane Allman, and Tom Waits.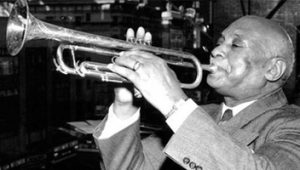 "W.C." Handy: 11/16/1873
Known as the "Father of the Blues", he was a composer, songwriter, bandleader, and author who, adept with several different instruments, had a major role in the development and popularization of blues music. In his travels of the United States, which saw him study various musical styles and musicians, he gained inspiration for such songs as "Beale Street Blues", "Yellow Dog Blues", "Saint Louis Blues", and more which would be released from his own publishing companies.  While not the first to perform the "blues", he is credited for giving the genre its contemporary form and bringing the blues to the masses.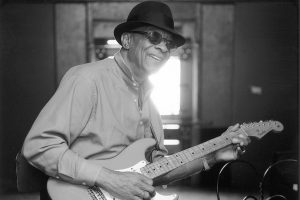 Hubert Sumlin – 11/ 16/1931 
Chicago blues guitarist Hubert Sumlin starts playing guitar at eight years old in church. By his teens, he is playing in a blues band with his friend James Cotton. Afterwards, he becomes a protege of the legendary Howlin' Wolf for more than two decades. Also, he becomes Wolf's lead guitarist from 1954 up until his death in 1976. Sumlin's greatest contributions to Wolf's catalog is "Killing Floor", "Smokestack Lightning" and "Shake for me" for the Chess record label. 
Sumlin's Other Collaborations
In addition to his extensive solo albums, Sumlin also plays guitar in Muddy Waters band for a short time and on records for Jimmy Reed, Willie Dixon, Chuck Berry, and Sonny Boy Williams. Sumlin's electrifying blues filled with earth-shattering bursts of energy and daring rhythmic suspensions has made him a renowned guitarist, winning multiple Blues Music Awards and ranking 43 on Rolling Stone's list of 100 Greatest Guitarist of All Time. 
Chris "Whipper" Layton: 11/16/55 
Chris Layton is an American drummer and also a founding members of Double Trouble, a band led by Stevie Ray Vaughan. Along with his band mates Tommy Shannon and Reese Wynans, Double Trouble recorded and performed with Vaughan until his death. Layton and Shannon later form super-groups such as the "Arc Angels", "Storyville", and "Grady". Furthermore, Layton is the drummer for the Kenny Wayne Shepherd Band.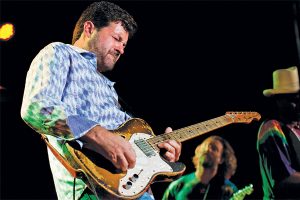 Tab Benoit – November 17, 1967 
American blues Musician Tab Benoit is born in Houma, Louisiana. As a teenager, he picks up the guitar and starts to play at blues clubs in Baton Rouge and New Orleans. Soon after, he began jamming alongside Tabby Thomas, Henry Gray, and Raful Neal and goes on to collaborate with Charlie Musselwhite, Anders Osbourne, and the Double Trouble rhythm section.
Benoit's Musical Style
His musical style is a blend of delta, soul and swampy bayou blues mixed with some whiskey-soaked vocals. Later he wins several Blues Music Awards, including a two-time winner of the esteemed B.B. King Entertainer of the Year award. Benoit writes his own compositions and plays a Fender Telecaster Thinline electric guitar. 
That's it for this week's birthdays for this week! Be sure to check back next week!
Help us with our mission of Keeping the Blues Alive in schools!
To learn more or donate to Keeping The Blues Alive, visit our website at http://keepingthebluesalive.org/donate 
Photo Credit- for Chris Layton – Jim Belmont