March 2nd – March 8th – Birthdays
March 2nd – March 8th – Birthdays – This week's music highlighted birthdays are Rory Gallagher, Lou Reed, David Gilmour and Walter Trout.  Check back next week!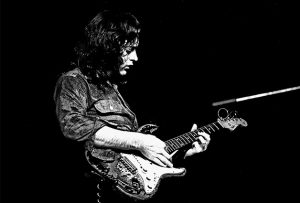 Rory Gallagher: 3/2/1948
Irish singer, songwriter, producer, bandleader, and multi-instrumentalist whose celebrated sound is crafted from a mixture of styles. With his exemplary virtuoso skills on the guitar, he gains a devoted following. Furthermore he's known for his charismatic and exhausting performances.
His emergence in the 1960's with his power trio "Taste" sets the stage for a successful solo career. Furthermore, it spans two and a half decades and sells over 30 million records worldwide. Sadly, Gallagher passes away in 1995. Meanwhile, his spirit continues to thrive within those that find inspiration in the music he lovingly created.
Lou Reed: 3/2/1944
Lou Reed is an American musician, singer, songwriter and poet. He was the rhythm/lead guitarist, singer and principal songwriter for the rock band "The Velvet Underground" and had a solo career that spanned five decades. While "The Velvet Underground" isn't a commercial success during its existence. Later they're regarded as one of the most influential bands in the history of underground and alternative rock music. 
After leaving the band in 1970, Reed releases twenty solo studio albums. Furthermore, Reed's distinctive deadpan voice, poetic lyrics and experimental guitar playing were trademarks throughout his long career. Reed is inducted into the Rock and Roll Hall of Fame twice. Once as a member of the Velvet Underground in 1996 and as a solo act in 2015.
David Gilmour: 3/6/1946 
David Gilmour is an English musician and a member of the rock band Pink Floyd. He joined the group as guitarist and co-lead vocalist in 1968 shortly before the departure of founding member Syd Barrett. Pink Floyd achieved international success with the concept albums The Dark Side of the Moon, Wish You Were Here, Animals, and The Wall. By the early 1980s, they had become one of the best-selling and most acclaimed acts in music history. In 2011, "Rolling Stone" magazine ranks him number 14 in their list of the greatest guitarists of all time.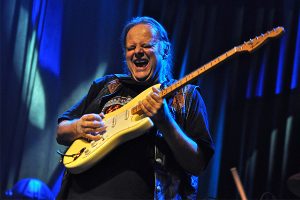 Walter Trout: 3/6/1951
Blues rock singer, songwriter and celebrated guitarist who began his career as a sideman for such legendary musicians as John Lee Hooker, Big Mama Thornton, and Percy Mayfield. After a three-year residency as lead guitarist of Canned Heat, he secured a coveted position in John Mayall's Bluesbreakers.  Furthermore, he kicks off his own solo career in 1989 and gains a massive following. And over the years through his extensive touring and acclaimed releases. The tracklisting of "Survivor Blues" is a window into the 67-year-old's fast-moving backstory, chronicling a five-decade career whose one constant is his deep love of the Blues.
Other Notable Birthdays:
Alvin Youngblood Hart: 3/2/1963 (Grammy Award-winning guitarist)
Larry Carlton: 3/2/1948 – (Steely Dan)
Mark Evans: 3/2/1956 – (AC/DC)
Jon Bon Jovi: 3/2/1962 – (Bon Jovi)
Dave Amato: 3/3/1953 – (REO Speedwagon)
Willie Johnson: 3/4/1923 – (Howlin' Wolf's lead guitarist & originator of the power chord)
Chris Squire: 3/4/1948 – (Yes)
J.B. Lenoir: 3/5/1925 – (Influential guitarist and singer in the Chicago Blues scene)
Alan Clark: 3/5/1952 – (keyboards, Dire Straits)
John Frusciante: 3/5/1970 – (guitar, Red Hot Chili Peppers)
Walter E. Lewis AKA Furry Lewis: 3/6/1893 –  (Beloved Delta bluesman)
Wes Montgomery: 3/6/1925 – (Jazz guitarist)
Ben Keith: 3/6/1937 – (pedal steel, Neil Young)
Matthew Fisher: 3/7/1946 – (keyboards, Procol Harum)
Randy Meisner: 3/8/1946 – (bass, Eagles)
Clive Burr: 3/8/1957 – (drums, Iron Maiden)
Keeping the Blues Alive
Help us with our mission of Keeping the Blues Alive in schools!
To learn more or donate to Keeping The Blues Alive, visit our website at https://keepingthebluesalive.org/