LOUISVILLE, KY – Thanks to your donations, one special school in Louisville will receive a brand new box of percussion mallets for their elementary music classroom.  Students from Kindergarten to 3rd grade, have been using old rusted instruments since before Ms. Allen (the Elementary Music teacher) has been around.  Yet her optimism and enthusiasm for her children's learning experience continues to grow.  When she took a look around her classroom and started thinking about the things she needed most, the mallets surely stood out.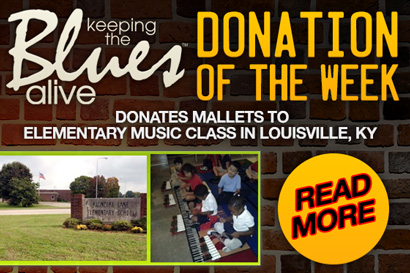 "I have so many different students from so many different backgrounds come through my room each week (as an elementary music teacher, I get the chance to know each student in the building, which is an amazing opportunity)! Our school is incredibly diverse with students from many different cultures who speak many different languages. It is so incredible to watch as they discover more about music each week and come together as a community! Many of my students had never been exposed to music other than Top 20 radio until last year. It is amazing the difference that has come over these kids as they have had the opportunity to experience new music from across different cultures and times over the last year. Each week, they come in excited to learn more about music and to make music together!
However, as the students continued to advance in the program, it was obvious that the implements they were using were starting to be a detriment more than an enhancement!
"The mallets that we had for all of our instruments look like they have been around about as long as the building has been here… Each time we [used] them, I found more and more that were full of splinters and needed to be thrown away.  Each day we had fewer and fewer that were safe for the students to use.  This is such a basic, yet necessary supply for any music classroom! It would be wonderful to have enough working mallets to allow each student in the class to play at the same time.  This would give them the opportunity to make music together, as a class, without limiting the number of students who can play simply because we did not have mallets for everyone," Ms. Allen pleads.
After reviewing the project proposal, we were excited to contribute to her project.  Keeping The Blues Alive Foundation and The Community Foundation of Louisville each paid 50% of the project, and the mallets were funded in less than a month.
Dear Keeping The Blues Alive Foundation and Community Foundation of Louisville,
Thank you so much for your generous donation to my students! I can't wait to share the exciting news with them!! My students and I appreciate your commitment to music and to education.
French poet Victor Hugo once said, "Music expresses that which cannot be said and on which it is impossible to be silent."  I know that has been incredibly true in my life. My hope is that students will be able to experience this phenomenon for years to come with the generous support of people like you!  
With gratitude, Ms. Allen
Keeping The Blues Alive Foundation cannot operate without your help!  If you would like to give to our organization, click this link to make a difference in music education!