CALDWELL, ID –  Mr. Martin and his students at Canyon Spring High School will be excited to know that a shipment of two (2)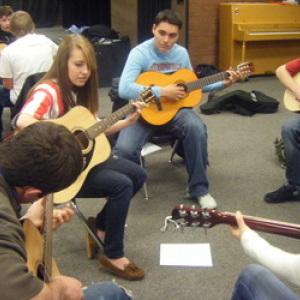 acoustic guitars will arrive next week from our donation!  The music program has had difficulty in keeping up with the growing demand for new instruments, and now these students will be used as in-school practice guitars to learn from.
Canyon Springs HS is an alternative school made up largely of minority students from low economic backgrounds.  83% of its students are economically disadvantaged, which makes extra-curriculuar activities a rarity.  With sinking budget costs for arts programs, students find it increasingly difficult to participate in these music programs, so Keeping The Blues Alive Foundation is extremely excited to be able to lend a hand.
Of course, our work is only possible because of the generous donations that we receive regularly from our followers.  If you would like to help us fund the next music project make a donation today! CLICK HERE TO DONATE.
As always, we promise to always donate to music projects that benefit students in a direct way!
Thank you for all your support!