C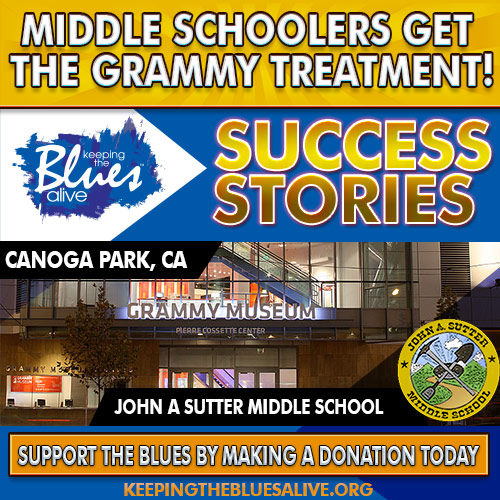 anoga Park, CA –  As we relish over the aftermath of this year's Grammys, we brought a new light to the Recording Academy by funding this special field trip in Canoga Park, CA.
In the heart of Los Angeles, near LA Live, the Staples Center and Nokia, lies a special gem to the music industry.  It is the Grammy Museum – 4 floors, 30,000 square feet of music history.  You take an elevator to the fourth floor and then work your way down, taking in the celebration of one of the finest art forms in the world.
Students at John A Sutter Middle "have their good days and their bad days," Mr. Rosales explains. "The good days mean plenty of hands-on activities while working with partners or in groups followed by a 'What? That's the bell already?' The period just flies by. The next day we try to do it all over again. They're a fun bunch and full of energy."
As a Recording Academy member, I was especially drawn to this project because not only will students be exposed to the interactive exhibits at the museum, but the thought of leaving campus with their peers will teach them about working together as a team, and building relationships with each other that last a lifetime.  Come on, everyone remembers the field trips in school – can you think of one right now that stuck in your memories? I can.
Students from Sutter Middle come from a lower socioeconomic background.  In areas like this, they're lucky to have a sports team or extra-curricular activity and it usually lies in football, soccer or basketball.
Instead of paraphrasing Mr. Rosales' words, I decided I had to quote them.  They are so inspiring and I think he really nailed it:
First of all, [the students] will see that there is a much larger world than the neighborhood in which they live. Many of these students don't get access to anything outside of their neighborhood due to the economics involved. The parents just don't have the resources to go to a museum, zoo, or park.

Another way in which this trip will help out my kids is by showing them that music is so much more than a download. Many of them walk around with their ear-buds firmly in place while bobbing their heads to a silent rhythm. They need to see how music is made and what instruments are involved in creating their favorite beats. They will absolutely LOVE this trip.

My project will certainly make a difference in the lives of my students. I have read so many times about artists saying that "music saved" their lives by giving them a way to express themselves and become productive members of society. I want to give my students a chance at seeing that music can be a vehicle towards a productive life and a chance to see that they don't have to be victims of their socioeconomic backgrounds but can be individuals who can do and go wherever their dreams may lead them.
Thanks to the donations of music lovers across the country, Mr. Rosales' project was funded last night, and we are so excited to be a part of their journey.