December 9 – 15th Birthdays
Blues Birthdays, Blues News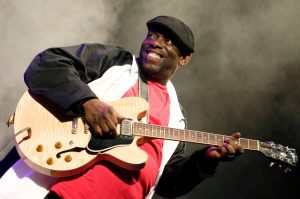 This week includes Junior Wells, Eddie "Guitar Slim" Jones, Big Mama Thornton,  Cliff Williams, Dave Clark, Carmine Appice, Billy Gibbons, Paul Butterfield, Paul Rodgers, Eddie Vinson, Keith Richards, as well as Chris Robinson.
Junior Wells – 12/9/1934

Junior Wells is a legendary Chicago blues singer and harmonica player. During the early 1950s, he was a member of Muddy Waters' band. In 1965, he releases his classic debut album, Hoodoo Man Blues, which launches a career that spans over three decades. His best-known song is Messin' with the Kid, which he frequently collaborated with guitar legend Buddy Guy.
Eddie "Guitar Slim" Jones  – 12/10/1926

A New Orleans blues legend, Slim brought a raw and incendiary approach to electric guitar playing in the 1950s with his classic "The Things That I Used to Do". Slim is considered a major influence along with Buddy Guy, Albert Collins, Jimi Hendrix, Earl King, John Mayer, and Dan Auerbach.
Meg White – 12/10/1974

The Detroit native is the drummer and founding member of the alternative rock duo "The White Stripes". For nearly a decade, she has played the drums for the Stripes, helping them become one of the biggest musical acts. During the turn of the 21st century, the group played a significant role in the revival of garage rock. Today, it is still flourishing.
Big Mama Thornton – 12/11/1926

As a drummer and harmonica player, this singer-songwriter is self-taught.  She is known for her intimidating size and powerful voice, as well as for being the original artist to record "Hound Dog".  The song tops the R&B charts for seven weeks. A cover by Janis Joplin makes Thornton famous for her influence on rock and roll. In 1984, she was inducted into the Blues Hall of Fame.
Dickey Betts – 12/12/1943

Forrest Richard Betts is a guitarist, singer, and songwriter from West Palm Beach, Florida. One of the greatest guitarists of all time, Betts is a founding member of "The Allman Brothers Band."  His two biggest hits are "Ramblin' Man" and "Jessica." The latter was written for his daughter. The Dickey Betts & Great Southern band was reformed in 2000 after Betts' fallout with The Allman Brothers.
Lucky Peterson – 12/13/1964

One of the most captivating blues performers of the modern era is the multi-instrumentalist, Lucky Peterson. An outstanding lead guitarist, a powerful organist, and a first-rate vocalist. He seamlessly blends gospel, rock, and jazz into 21st-century blues.
Cliff Williams – 12/14/1949

An English musician and singer best known as the bassist and backing vocalist of AC/DC and had previously been in the English groups Home and Bandit when he started his professional music career in 1967.
Dave Clark – 12/15/1942

Singer-songwriter, record producer, entrepreneur, and musician from England. As the leader, drummer, and manager of the Dave Clark Five, the first British Invasion band to follow the Beatles to America in 1964, Clark was an important figure in the American music scene of the 1960s. Clark and his band were inducted into the Rock and Roll Hall of Fame in 2008.
Carmine Appice – 12/15/1946

Carmine Appice is an American drummer and percussionist whose most common genre is rock. Among his most notable associations are Vanilla Fudge; Cactus; Beck, Bogert, and Appice; Rod Stewart; King Kobra; and Blue Murder, which included John Sykes of Whitesnake and Thin Lizzy and Tony Franklin of The Firm.
December 9  – December 15th -Birthdays!

To learn more or donate to Keeping The Blues Alive, visit our website at https://keepingthebluesalive.org/