December 9 -15 –

Birthdays:
December 9 -15th. Birthdays this week include Junior Wells, Guitar Slim, Big Mama Thornton, Dicky Betts, Meg White and John Henry Hammond II! Be sure to check back next week for more birthdays!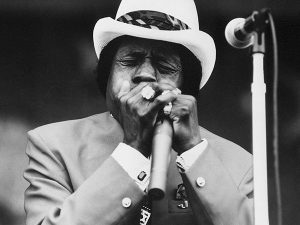 Junior Wells – 12/9/1934
Chicago blues singer and harmonica player Junior Wells is a legendary musician. And he begins his professional in blues as a member of Muddy Waters' band in the early 50's. In 1965, his classic debut album, Hoodoo Man Blues, launches a career that lasts over three decades. Along with frequent collaborations with guitar giant Buddy Guy. "Messin' with the Kid" is his best-known song and remains a blues staple.
Eddie "Guitar Slim" Jones 12/10/1926
Trendsetting New Orleans Blues musician and guitarist known for the influential classic, "The Things That I Used to Do". Slim brought new levels of energy and intensity to electric guitar playing with his raw, incendiary approach in the 1950s. Buddy Guy, Albert Collins, Jimi Hendrix, Earl King, John Mayer, and Dan Auerbach list Slim as a major influence.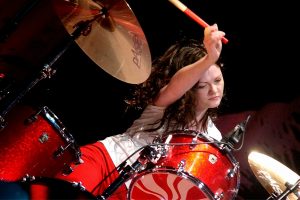 Meg White: 12/10/74
This Detroit native is the drummer and one of the founding members of the punk blues and alternative rock duo "The White Stripes". With her delightfully primal and drums, she helped the Stripes become one of the biggest musical acts for nearly a decade. The group played a major role in the resurgence of a garage rock at the turn of the 21st century that continues to thrive to this day.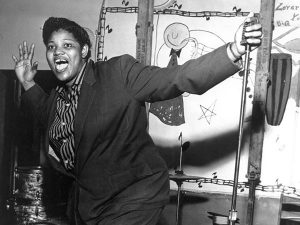 Big Mama Thornton: 12/11/1926
This singer and songwriter is a self-taught harmonica player and drummer.  Along with her intimidating size and powerful fierce voice she gains attention as the original artist to record "Hound Dog".  It tops the R&B charts for seven weeks. Janis Joplin covers her song "Ball 'n' Chain" which allows Thornton to be recognized for her influence on rock and roll. In 1984, she's inducted into the Blues Hall of Fame.
Dicky Betts: 12/12/1943
Guitarist, singer, and songwriter Forrest Richard Betts was born in West Palm Beach, Fl. As a founding member of "The Allman Brothers Band" Bett's is one of the greatest guitarists of all time.  Betts writes two of "The Allman Brothers" biggest hits, "Ramblin' Man" and "Jessica" which he writes for his daughter who shares the songs name.  After a fallout with The Allman Brothers in 2000, Betts reforms the Dickey Betts & Great Southern band and releases 11 solo albums.
John Henry Hammond, II – 12/15/1910
Record Producer, Civil Rights Activist. In his service as a talent scout, he became one of the most influential figures in 20th century popular music. He's instrumental in furthering the musical careers, of Bob Dylan and Bruce Springsteen. Along with Benny Goodman, Billie Holiday, Count Basie, Big Joe Turner, Pete Seeger, Aretha Franklin, Stevie Ray Vaughan and more.  He's responsible for the revival of delta blues artist Robert Johnson's music.  He becomes an inductee to the Rock and Roll Hall of Fame in 1986.
Help us with our mission of Keeping the Blues Alive in schools!
To learn more or donate to Keeping The Blues Alive, visit our website at http://keepingthebluesalive.org/donate