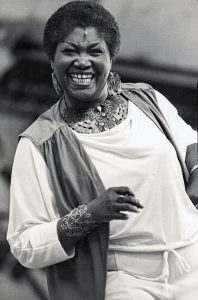 December 30 – January 5  Birthdays

This week includes Bo Diddly, Odetta Holmes, Frank Stokes, John McLaughlin, and Johnny Adams. 
Blues Birthdays, Blues News
Bo Diddley – 12/30/1928

A pioneer of rock & roll, this guitarist and singer-songwriter's work in the blues helped to bridge the gap between blues and rock. And his music influences the likes of The Yardbirds, The Doors, Creedence Clearwater Revival, Eric Clapton, Tom Petty, and Aerosmith.
Odetta Holmes – 12/31/1930

Aside from being an actress, singer, and guitarist, she is also the voice of the Civil Rights Movement. As well as blues and jazz, she likes spirituals, folk, and spirituals and played a key role in American folk music revivals of the 1950s and 1960s. Lastly, Holmes has received the "National Medal of Arts", "The Visionary Award", and the "Living Legend Award".
Frank Stokes – (1/1/1888 – 9/12/55)

Stokes is considered by many historians to be the father of the Memphis blues guitar.
John McLaughlin – 1/4/1942

An English guitar virtuoso and bandleader born in Yorkshire, England, McLaughlin is one of the most popular and influential jazz-rock musicians ever.  After playing blues and rock in London in the 1960s, McLaughlin went on to play free jazz with important British figures before moving to the USA in 1969.
Johnny Adams – 1/5/32 – 9/14/1998

A New Orleans-born singer who sang R&B, jazz, blues, and gospel, Adams was nicknamed "The Tan Canary" because of his ability to sing in many octaves. In 1959, Adams switched from gospel to other genres.
During the late 1960s, he was best known for his versions of "Release Me" and "Reconsider Me."
December 30  – January 5 – Birthdays!
To learn more or donate to Keeping The Blues Alive, visit our website HERE