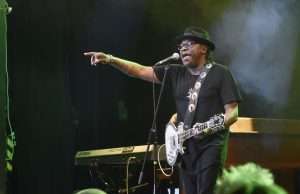 Jorma Kaukonen – 12/23/1940

Known for playing blues, folk, and rock guitar, Jorma Ludwik Kaukonen, Jr. was born in Finland in 1970. As of early 2019, Kaukonen will celebrate 50 years of Hot Tuna, a side project he started with bassist Jack Casady and has continued for 50 years.  Psychedelic rock was defined by his masterful guitar work in the 1960s. H
e is also a Rock & Roll Hall of Fame inductee and Grammy winner.
Doyle Bramhall II – 12/24/1968

As a guitarist, singer, songwriter, producer, and studio collaborator, he currently performs with his good friend, guitarist, and singer Eric Clapton.  Many artists have sought out his skills, including T-Bone Burnett, Elton John, Allen Toussaint, Sheryl Crow, Billy Preston, Michael McDonald, Erykah Badu, Questlove,  Meshell Ndegeocello and many more.   
Noel Redding – 12/25/1945 – 5/11/2003

David Noel Redding was a bass player for the Jimi Hendrix Experience. He formed a band with former Thin Lizzy guitarist Eric Bell and released two albums in the 1970s. Although Redding had largely retired from the music business by the 1980s, he was still recognized as a member of the Jimi Hendrix Experience and was inducted into the Rock and Roll Hall of Fame in 1992.
Joe Louis Walker – 12/25/1949

NPR Music has called Walker "a legendary boundary-pushing icon of modern blues," and he is already being referred to within the blues world as a living legend.
 "I'd like to be known for the credibility of a lifetime of being true to my music and the blues.  I'd like to think that when someone puts on one of my records they would know from the first notes, 'That's Joe Louis Walker.'"
Matt "Guitar" Murphy – 12/29/1929 – 6/15/2018

Blues guitarist Matt "Guitar" Murphy has performed with several world-renowned blues musicians. Among them are Howlin' Wolf, Etta James, Muddy Waters, Chuck Berry, Memphis Slim, and "The Blues Brothers".  He is highly regarded as a veteran of Chicago's legendary blues scene.
Keeping the Blues Alive

December 23  – December 29 – Birthdays!
To learn more or donate to Keeping The Blues Alive, visit our website
HERE