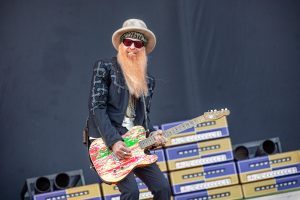 December 16 – 22nd Birthdays.
Billy Gibbons, Paul Butterfield, Paul Rodgers, Keith Richards, and Chris Robinson are a few famous musicians born this week.
Billy Gibbons – 12/16/1949
One of the most influential blues-rock musicians to come out of Texas, ZZ Top has been led by this beastly bearded man for over four decades. Guitarist, singer, and songwriter Gibbons has been with the hard rock power trio since 1969. Since then, Gibbons has been an integral part of rock and roll.
Paul Butterfield – 12/17/1942
A true trailblazer. As a bandleader, singer, and distinguished harpist, Butterfield demonstrated that a white musician could be a bluesman in the 1960s. His performances also expose white audiences to Chicago's electric style. Paul Butterfield Blues Band is composed of a variety of musicians. With his mix of blues, rock, jazz, psychedelia, R&B, and soul, he is a pioneer of musical fusion.
Paul Rodgers – 12/17/1949
British blues musician Paul Bernard Rodgers is from Middlesbrough, England. Bluesy lead vocalist for "Free" and "Bad Company".  "All Right Now" established his band "Free" as one of the biggest blues-rock groups of the '70s. "All Right Now" has become a classic rock staple after selling more than 20 million albums worldwide. After forming Bad Company in 1973, Rodgers continued a successful solo career. In 1993, he is nominated for a Grammy for Muddy Water Blues: A Tribute to Muddy Waters. Several notable rock and blues singers have cited Rodgers as an influence.  John Mellencamp called Rodgers "the best rock singer ever".
Keith Richards – 12/18/43
Known best as a longtime member of the Rolling Stones, he has been an integral part of the band since its inception over 50 years ago. Rock and roll's most famous band might not have succeeded without both Richards' nuanced rhythm guitar and infectious riffs and his talent as a songwriter. He and Mick Jagger penned some of rock and roll's most iconic songs together while covering blues and R&B classics.
Professor Longhair – 12/19/1918 – 1/30/1980
Professor Longhair, aka Henry Roeland "Roy" Byrd, was born in Bogalusa, Louisiana.  He performed in New Orleans as a blues singer and pianist. His career spanned two eras, the early rhythm and blues period and the resurgence of traditional jazz following the 1970 creation of the New Orleans Jazz and Heritage Festival.  His sound is "Instantly recognizable, combining rumba, mambo, and calypso", is how one reviewer described his piano style.
Chris Robinson – 12/20/1966
A singer-songwriter and guitarist, Chris Robinson is a founding member of the blues rock group "The Black Crowes".  They sold over 5 million copies of their breakout album, "Shake Your Money Marker," in 1990.  Recently, Robinson has been taking part in the Chris Robinson Brotherhood, a solo project backed by New Earth Mud, during the Crowes' hiatuses over the past several years. In January 2021, the Black Crowes celebrated the 30th anniversary of their album "Shake Your Money Maker".
Harmonica Slim – 12/21/1934 – 6/16/1984
Blues harmonicist, singer, and songwriter who had a successful commercial recording career in the 1950s. With the songs "You Better Believe it" and "Mary Helen". Furthermore, he also toured alongside B.B. King, T-Bone Walker, and Ray Charles.
Peetie Wheatstraw – 12/21/1902- 12/21/1941
"This guy could really sing!"
St. Louis pianist and singer Peetie Wheatstraw wasn't much of a pianist, but his self-assured confidence in his singing made up for it.  His famous phrase, 'Ooh well, well", was his inventive way with a lyric that made him one of the best-selling Blues artists of the 30s. In 1929, William Bunch, a singer from Ripley, TN  arrived in St. Louis to make a name for himself, as 'Peetie Wheatstraw.  He played an African American folklore character figure, the evil twin of 'Stingeroo'.  A joking, self-mocking figure behind the mask referred to himself as 'The Devil's Son-in-Law' and 'The High Sheriff of Hell'. Peetie succeeded in recording over 160 tracks in an eleven-year career.
Lil Green – 12/22/1919 – 1971
When Lil Green appeared in Harlem in 1943, an Apollo Theater advertisement called her "the greatest of all blues singers." Incorporating jazz, gospel, and pop elements into her blues style and repertoire, she reached heights only reached by a select group of blues singers of the 1940s. In her high-pitched delivery, Green exuded youthful sweetness and charm while remaining sultry and streetwise. 
According to her biography and death certificate, she was born on December 22, 1919, but the year of her birth and death are unclear. According to most records, Lil Green died around 1971 when she was approximately 52 years old.