Blues Music Birthdays: April 22 – April 28
This week's blues birthdays feature musicians Peter Frampton, Albert King, Chuck Leavell and singer Roy Orbison!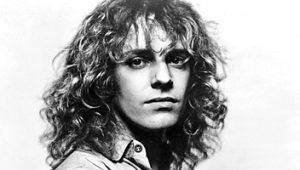 Peter Frampton: 4/22/1950
Peter Frampton is a multi-platinum selling musician and a member of both Humble Pie and The Heard. He recorded several albums with Humble Pie, then Frampton decided it was time to go solo.  As a solo artist, Frampton released several albums including his international breakthrough album, the live release Frampton Comes Alive!  The album sold more than 8 million copies in the United States and spawned several hit singles.  
Also, Frampton is best known for such hits as "Breaking All the Rules", "Show Me the Way", "Baby, I Love Your Way", "Do You Feel Like We Do", and "I'm in You", which remain staples on classic rock radio.  He has also appeared as himself in television shows such as "The Simpsons" and "Family Guy."  Furthermore, Frampton is known for his work as a guitar player and particularly with a talk box and his voice. 
After 50+ years of touring Peter Frampton has announced that his upcoming 2019 tour will be his last. The Peter Frampton Finale – The 2019 Farewell Tour will feature support from Jason Bonham's Led Zeppelin Evening for the majority of the run.  Furthermore, for his retirement from touring, Frampton is also planning a double album for release this summer. The albums will be his first release in three years.
Photo Credit: Janet Macoska
Roy Orbison: 4/23/1936
American singer-songwriter Roy Orbison possessed a great rock and roll voice! A forceful, operatic bel canto tenor capable of dynamic crescendos.  The melancholic intensity in his voice resonated with listeners of all ages.
He sang heartbroken ballads and bluesy rockers alike, running up a formidable hit streak in the early Sixties.  From the release of "Only the Lonely" in 1960 to "Oh! Pretty Woman." In a span of four years, Orbison cracked the Top Ten nine times. 
His most popular song to date was Crying and It's Over.  With the Traveling Wilburys he had a 1988 UK hit single 'Handle With Care'. Orbison died of a heart attack on 6 December 1988.
Albert Nelson AKA Albert King: 4/25/1923
Albert King was the oldest of the trifecta of blues "Kings" (Freddie, B.B., and Albert).  Known as "The Velvet Bulldozer" because of his smooth singing and his large frame, King was a force in the blues. Growing up in the south, King was exposed to gospel music in his formidable years.  He used his gospel influences and his love for blues to create one of the most unique and recognizable sounds on guitar.
King has influenced the careers of countless musicians around the world and from multiple generations. Last of all, his 1967 album, Born Under a Bad Sign, is still regarded as one of the best blues albums of all time.  King is known for playing one of the most outrageously shaped guitars in existence, the Gibson Flying V. That's right, the instrument seen more regularly in metal music now.
Albert King was a prominent blues figure to play the instrument at almost all of his shows.  Can you think of someone who might have adapted this tradition?
Chuck Leavell: 4/28/1952 
Chuck Leavell is one busy musician! Furthermore, he has been playing professional keyboards since 1969 and shows no signs of letting up now. Leavell grew up in Alabama, where he met a lot of impressionable musicians who invited him to jam and join various bands.  His career took off in the early 70's when he was playing with Dr. John's band.
While performing with Dr. John, Leavell was introduced to the legendary bluesman Gregg Allman. Allman asked Leavell to add keys to the tune "Jessica" in order to recreate the sound of the guitar due to the passing of Duane Allman.
Leavell would go on to record on four Allman Brothers albums and become a welcomed addition to the group. Leavell has toured and recorded with some amazing names in music including David Gilmour, Eric Clapton, The Black Crowes, and more. Chuck Leavell is featured on 12 Rolling Stones albums, including their most recent Grammy winning album Blue and Lonesome.
Keeping the Blues Alive
Help us with our mission of Keeping the Blues Alive in schools! To learn more or donate to Keeping The Blues Alive, visit our website at http://keepingthebluesalive.org/