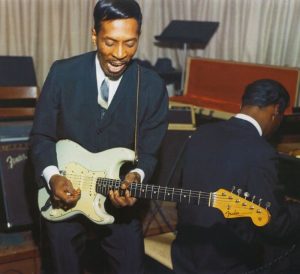 IKE TURNER – NOVEMBER 5TH, 1931
Two-time Grammy winner Izear Luster "Ike" Turner, Jr. was born in Clarksdale, Mississippi. The multi-talented musician has recorded for many of the main R&B labels of the 50's and 60's, such as Chess Records, and is regarded as an early pioneer of 50's rock and roll. Turner started playing the piano and guitar at just eight years old. An early player of the Fender Stratocaster, purchasing one from a music store in Memphis during its first year of release in 1954. His guitar playing is characterized by his heavy use of the whammy bar to achieve reverb-soaked vibrato, string bending, hammer-ons and triplets in his blues phrasing. As a teenager he formed his group the Kings of Rhythm and continued to employ them as his backup band up until his death in 2007. In the mid-1960's legendary guitarist Jimi Hendrix played backing guitar briefly for the band before Ike fired Hendrix for his complex and ornamented solos. Ike gained superstardom in the 60's and 70's as Ike & Tina Turner Revue, the duo became a soul/rock crossover success. Turner won his first Grammy in 1972 for Best Rhythm & Blues Performance duo for "Proud Mary" and in 2007 won his first solo Grammy in the Best Traditional Blues Album category for his record Risin' With The Blues.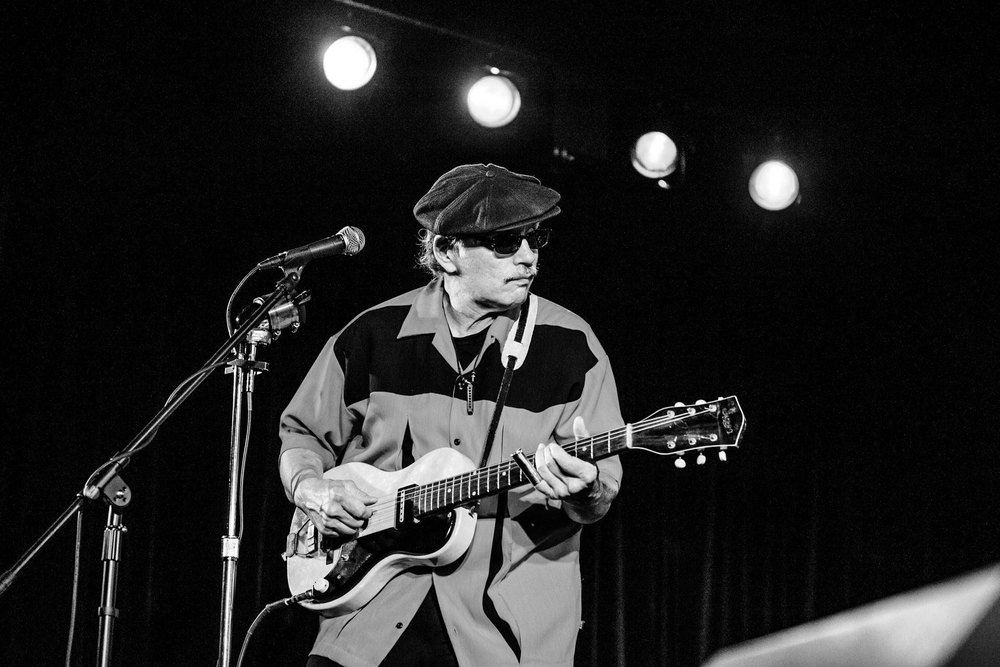 STUDEBAKER JOHN – NOVEMBER 5TH, 1952
Studebaker John, born John Grimaldi, is a Chicago blues and harmonica player. He was inspired to learn slide guitar after watching a live performance of Hound Dog Taylor and the Houserockers. By the 1970's John was a regular on Maxwell street's local blues scene with his band Studebaker John and the Hawks. He recorded his first album 'Straight No Chaser' in 1978 and played on Little Mack Simmons 1995 blues album 'High & Lonesome'. John has toured the US and Europe and released a total of 18 albums, filled with Chicago swing, boogie, and swampy blues-rock.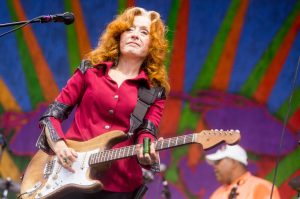 Musician Bonnie Raitt performs live at Fair Grounds Race Course on April 29, 2016, during the New Orleans Jazz & Heritage Festival in New Orleans, Louisiana (Photo by Daniel DeSlover/imageSPACE)
BONNIE RAITT – NOVEMBER 8th, 1949
Bonnie Raitt is a curly red-haired, boot wearing, blues playin', accomplished musician whose hugely successful career has edged her to the top of a mostly male-dominated field. A California native, she first started playing guitar at 12 and later left college in 1967 to play the Boston blues club circuit. Soon she was performing alongside blues icons such as Howlin' Wolf and Mississippi Fred McDowell. In 1971 she released her self-titled debut album, Bonnie Raitt, and has since recorded 17 studio albums spawning breakthrough hits such as "Runaway," "I Can't Make You Love Me," and "Something to Talk About." Her signature bottle-neck slide work, sassy songs, and soulful voice have earned her a reputation as one of the most bad-ass blueswomen there is. Rolling Stone magazine lists Raitt as one of the top 100 greatest singers and guitarists of all time, she was inducted into The Rock and Roll Hall of Fame in 2000 and has received 10 GRAMMY awards. With a remarkable career spanning over 45 years and counting, Bonnie Raitt has become an American roots music staple.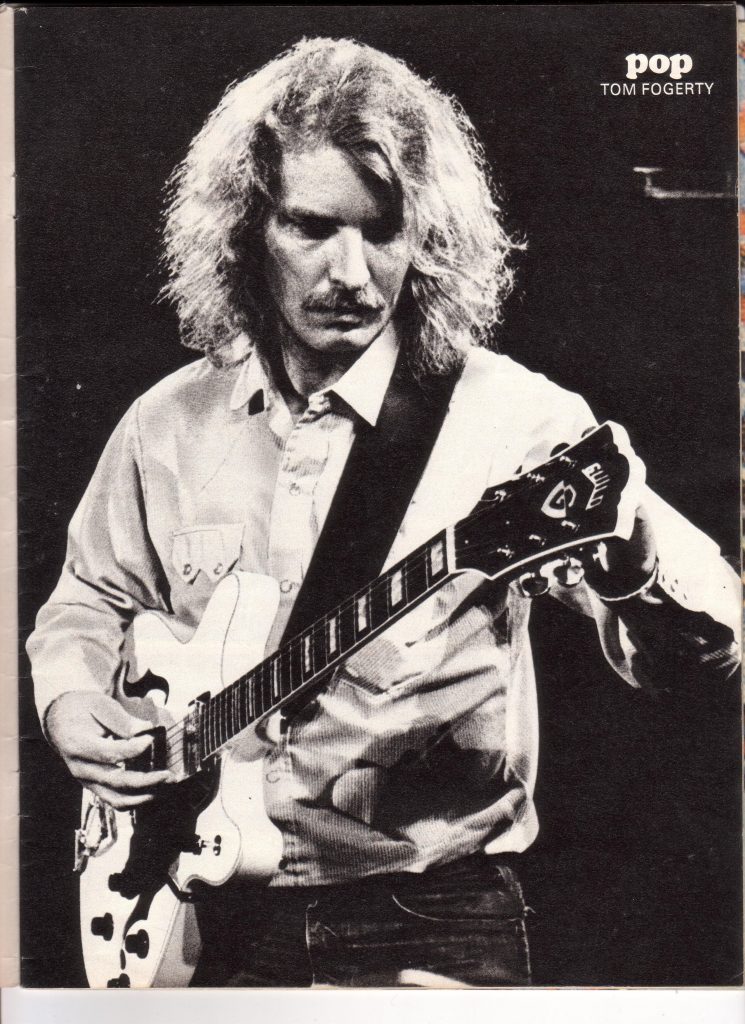 TOM FOGERTY – NOVEMBER 9, 1941
Thomas Richard Fogerty is best known as the rhythm guitarist for Creedence Clearwater Revival and the older brother of John Fogerty. As teenagers, the two Fogerty brothers played in a rock cover band called 'Blue Velvets' whose music was inspired by Bo Diddley and Little Richard. Fantasy Records signed the band in 1964 and changed their name to 'Golliwogs'. Tom's role in his earlier bands was much more prominent, he shared lead vocals with John and co-wrote most of the songs. By 1967 John returned home from the military and took over Tom's place as lead singer. The band changed their name again and Creedence Clearwater Revival was born. CCR became a massive success, with over 26 million records sold the band has eight gold albums and 9 top ten singles. Their sound was American rock and roll mixed with swampy blues and roots rock.
Tom was greatly overshadowed by his younger brother, eventually leading to internal rifts within the band. Tom was resentful and felt he was being taken for granted, which caused him to ultimately leave the group in 1971. Creedence Clearwater Revival released one last album without Tom, before disbanding in 1972. Tom pursued a solo career throughout the 70's and 80's but never reached the level of success he had with CCR. Tom passed away in 1990 from AIDS, which resulted after a blood transfusion during surgery for his back. He was post humorously inducted into the Rock and Roll Hall of Fame in 1993 for his work with Creedence Clearwater Revival. Their music is still frequently referenced in pop culture, in movies such as Forrest Gump, and many of their songs like "Fortunate Man", "Have You Ever Seen the Rain", and "Bad Moon Rising" have become a staple of radio airplay.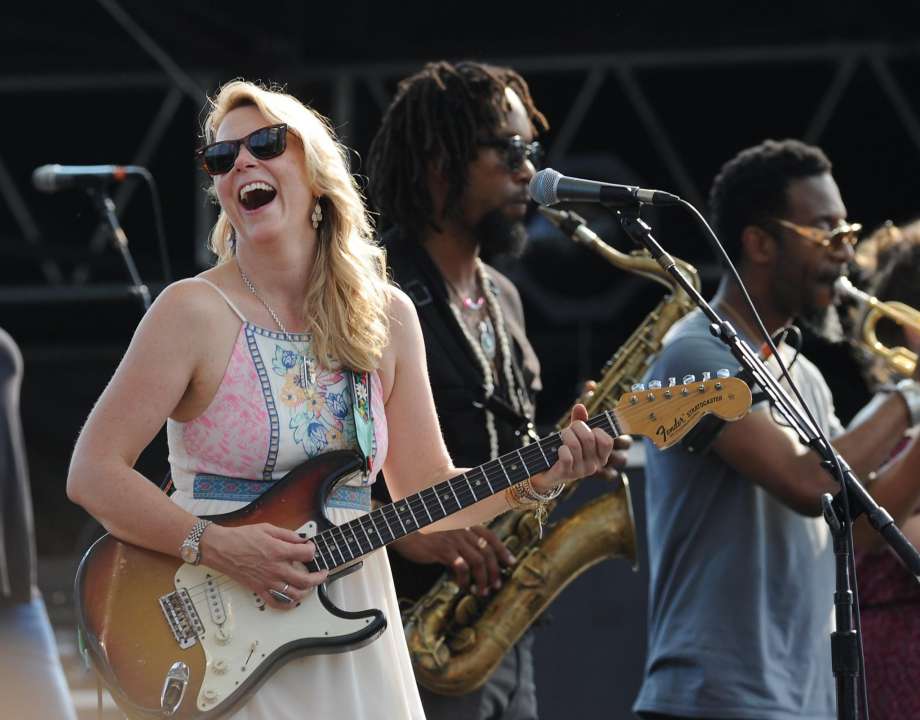 SUSAN TEDESCHI – NOVEMBER 9th, 1970
Blues singer, songwriter, and guitarist Susan Tedeschi has been performing since she was six years old. She grew up singing in church choirs and local bands before attending Berklee College of Music, where she graduated at 20 with a bachelor's degree in musical composition. During college she became more involved in the Boston music scene, sitting in on local blues jams. She learned how to play blues guitar and formed the Susan Tedeschi Band, in 1998 she released the album 'Just Won't Burn' which reached Gold record status. She has opened for blues legends such as B.B. King, Buddy Guy, Bob Dylan, John Mellencamp and The Rolling Stones. In 1999 Tedeschi opened for The Allman Brothers Band during their summer tour, where she met slide guitarist Derek Trucks and the duo married two years later.  By 2010 the blues-rock power couple formed The Tedeschi Trucks Band, their debut album 'Revelator' won the 2012 GRAMMY for Best Blues Album. Described as "the Janis Joplin of our generation", her raspy sultry vocals, guitar prowess, and southern blues-rock and roots songs have earned Tedeschi several Grammy nominations and six Blues Music Awards.
Help us with our mission of Keeping the Blues Alive in schools! To learn more or donate to Keeping The Blues Alive, visit our website at http://keepingthebluesalive.org/donate