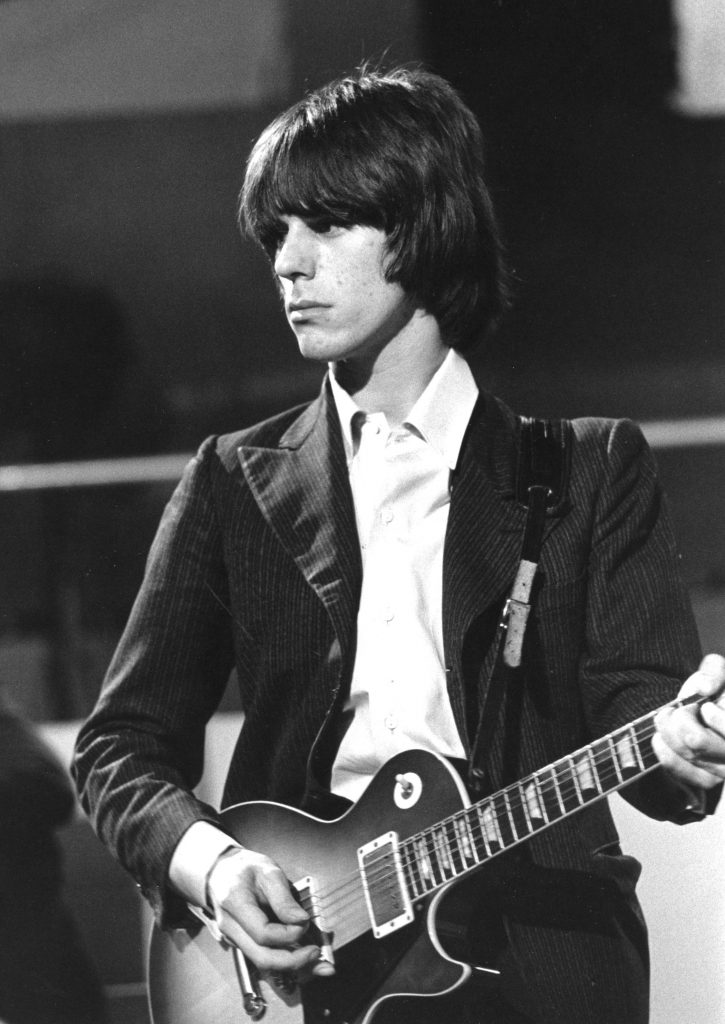 This week's Blues birthdays June 24th to 30th
This week's Blues birthdays features Clifton Chenier, Larry Taylor, Big Bill Broozy, Honeyboy Edwards and rock guitarist, Jeff Beck!  Be sure to check back next week for more blues birthdays!

Geoffrey "Jeff" Beck 6/24/1944
Jeff Beck is one of the most celebrated guitarists to emerge from the British blues scene of the 60's.  Over the years he has proven to be one of rock's leading guitar players. Experimentation has always been a priority for Beck, who saw "The Yardbirds" venture into new frontiers of psychedelic rock. The Jeff Beck Band's jazz fusion and hard rock set foundations for heavy metal. To this day, he continues to push the boundaries of his guitar playing while inspiring newer generations of guitar players.
Clifton Chenier 6/25/1925
"The King of Zydeco" and "King of the South!" Those are big titles for an accordion player from Louisiana. Clifton Chenier jumped into the professional recording music business when he signed to Elko Records in 1954. He recorded a few hits for them before going to the famed blues label, "Chess Records".  Clifton became an icon for Louisiana natives and helped Zydeco music pierce the mainstream. In 1989, Chenier was posthumously inducted into the "Blues Hall of Fame" in 1989. He received the "Lifetime Achievement Grammy" in 2014. 
Larry Taylor: 6/26/1942
Larry "The Mole" Taylor has been an active performing and recording bass player for almost 60 years.  Taylor began this journey in 1959 at the age of 17 when he joined a band called the "Gamblers." The band only lasted for three years; they were known as one of the first bands to record surf rock. They even influenced the Beach Boys!  After this, Larry Taylor decided to become a session bassist for a short time, recording most famously on multiple albums with the Monkees.  Finally, Taylor settled into the band where he will be, on and off for the next 51 years. The blues-rock group Canned Heat. His time with the band was sporadic, Taylor is considered to be in the classic lineup of the esteemed band.
William Broonzy AKA Big Bill Broonzy: 6/26/1893
An influential blues musician known for his prolific recording career that saw him both adapt traditional and pen original songs that numbered in the hundreds. Though he was a pioneer of Chicago blues, he became far more popular for his acoustic driven, earlier folk-blues style that made him a sensation amongst both American and British folk revivals.  He incorporated "a more urban blues sound which was popular with working-class African-Americans." Combining various elements like work songs, ragtime, etc. Broonzy made his own style that "foreshadowed the postwar Chicago blues." He gained great success in the 50's as the "American folk music revival" came about. This was due to his roots in country blues earlier in his career. "His long and varied career marks him as one of the key figures in the development of blues music in the 20th century." 
David Edwards AKA Honeyboy Edwards: 6/28/1915
A Delta blues musician who as a youth traveled with his mentor Big Joe Williams.  He also experienced the likes of Charley Patton, Tommy Johnson, and even played Robert Johnson. Up until his death, he had performed in the blues for nearly seventy years and gone onto win numerous awards and honors, including "Grammy and National Guitar Museum Lifetime Achievement Awards."
Keeping the Blues Alive
Help us with our mission of Keeping the Blues Alive in schools! To learn more or donate to Keeping The Blues Alive, visit our website at https://keepingthebluesalive.org/