This week's Blues birthdays – June 17 – June 24
This week's Blues birthdays features Gregg Rolie, Sara Martin, Don Airey, Don "Sugarcane" Harris  and multi-instrumentalist Grace Potter!  Be sure to check back next week for updated blues birthdays!
Gregg Rolie: 6/17/1947
Singer, pianist, and organist Gregg Rolie is a founding member of the bands Santana, The Storm, Abraxas Pool, and Journey. He was the original lead singer for Journey. He currently performs with his Gregg Rolie Band.  Rolie is a two-time inductee into the Rock and Roll Hall of Fame with Santana and Journey.
Sara Martin: 6/18/1884
She's the "blues sensation of the West!" She's a classic female blues singer who was popular in the 1920's. She's Known for such songs as "Mean Tight Mama" and her recording of "T'aint Nobody's Biz-ness if I Do."  She's the "Famous Moanin' Mama," and has penned a few songs under the names "Margaret Johnson" and "Sally Roberts."
Don "Sugarcane" Harris: 6/18/1938
Don "Sugarcane" Harris is well-known musician in the rock and blues scene.  He played electric violin, violin, guitar, organ and backup vocals for a variety of acts. Furthermore, he is most noted for his jazz blues-fusion violin playing with Johnny Otis, Frank Zappa and John Mayall.  
Grace Potter: 6/20/1983
Acclaimed singer who is the lead vocalist of the roots-rock band "Grace Potter & the Nocturnals."  She is a key factor in creating the popular band in 2002. She has mad guitar and keyboard skills that she throws into the mix. In the years since Potter has hit the scene, she has received a great deal of critical praise. She is similar to the likes of Bonnie Raitt and Norah Jones. As a rock group, they mix alternative, blues, country, folk, funk, soul, and roots into their music.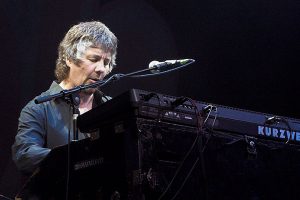 Don Airey 6/21/1948
English keyboardist, vocalist, and songwriter who has been active in a plethora of genres over his 50-year career span. He has contributed his talents to quite an impressive list of musical acts over the years. Some of these include: Black Sabbath, Gary Moore, Rainbow, Colosseum II, Thin Lizzy, Whitesnake, Jethro Tull, Judas Priest, and Ozzy Osbourne. In 2002, he became Deep Purple's
full-time keyboardist after the retirement of Jon Lord, and remains with the band to this day. [Photograph by Frederico de Marco]
Help us with our mission of Keeping the Blues Alive in schools! To learn more or donate to Keeping The Blues Alive, visit our website at http://keepingthebluesalive.org/