This week's Blues birthdays – June 10 – June 16
This week's Blues birthdays features Howlin' Wolf, Hugh Laurie, Frank Beard, Kenny Wayne Shepherd and electric blues singer, songwriter Aron Burton!  Be sure to check back next week for updated blues birthdays!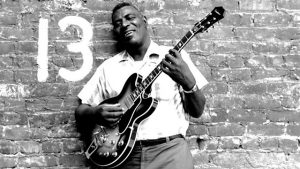 Chester Burnett AKA Howlin' Wolf: 6/10/1910
With his intimidating and unmistakable growl, this premier musician helped put Chicago blues on the map in the 1950's. And he had no small influence on the rise of electric blues (and subsequently rock and roll). Howlin' Wolf's songs "Killing Floor" and "Smokestack Lightning." These songs along with numerous ones written for him by Willie Dixon, have since become standards of blues and rock.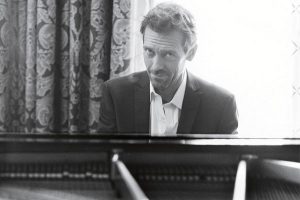 Hugh Laurie: 6/11/1959
Dr. House plays blues?! Besides being a well-known and accomplished British actor, Oxford native James Hugh Laurie is actually a talented pianist. At the age of 6, Laurie took piano lessons which snowballed into an interest in singing, percussion, and saxophone. It might come as a shock to some of his fans (definitely was for me) that he can play the piano as well as he does. Also, in some of his screen work like various House episodes, the actor does allude to his love of music and even played instruments in some.  Laurie has released two blues albums, Let Them Talk (2011) and Didn't it Rain (2013). Both received great attention and went Platinum and Gold respectively in France. The doctor knows his blues!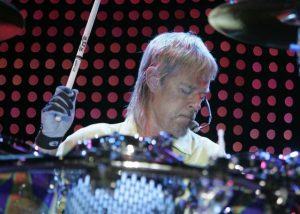 Frank Beard: 6/11/1949
A talented and often overlooked musician, drummer, and songwriter.  He is best known for his almost 50-year career with the Texas blues-rock band ZZ Top.  He has been a key component of the Texas blues and hard rock power trio since the beginning.  To this day he continues to be an integral member in the band. He also has helped write many of the group's most popular songs, from "Jesus Just Left Chicago" to "Cheap Sunglasses." Frank and the rest of the bearded bluesmen are still going strong and touring almost every year! Fun fact, Beard is ironically the only member of ZZ Top who does not sport a trademark large beard.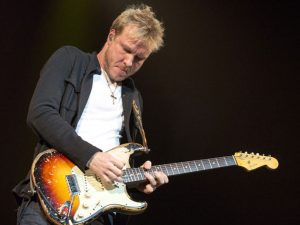 Kenny Wayne Brobst AKA Kenny Wayne Shepherd: 6/12/1977
Award-winning guitarist, singer-songwriter, and bandleader. He first came to prominence in the early 90's as a prodigy with his self-taught guitar prowess. In 1995, his debut album, Ledbetter Heights, was released and he began an acclaimed and commercially successful career. His Grammy-nominated project 10 Days Out: Blues from the Backroads saw the guitarist travel the United States heavily. He even played with the likes of Etta Baker, B.B King, Clarence "Gatemouth" Brown, Honeyboy Edwards, Henry Townsend and more. Shepherd released his 8th studio album Lay it on Down in 2017.  It reached the number 1 spot on the Billboard Blues Charts. He started an extensive world tour and was a guest on Walter Trout's collaboration album "We're All in This Together." Look out for the Keeping the Blues Alive at Sea Mediterranean as Shepherd sets sail with Joe Bonamassa. Along with a boat load of other fantastic blues guitarists!
Aron Burton: 6/15/1938
A Chicago and electric blues singer, songwriter, and bassist who has played alongside the likes of Albert King, Junior Wells, Champion Jack Dupree, and Albert Collins. In the early 90's, he began recording his own music, for which he has received multiple Blues Music Award nominations.
Help us with our mission of Keeping the Blues Alive in schools! To learn more or donate to Keeping The Blues Alive, visit our website at http://keepingthebluesalive.org/