This week's Blues birthdays features Jaimoe Johanson, Mitch Mitchell, Jack White, Blind Boy Fuller and Irish singer-songwriter Imelda May!  Be sure to check back next week for more blues birthdays!
John Johanson AKA Jai Johanny "Jaimoe" Johanson: 7/8/1944
Founding member, drummer and percussionist of the blues and Southern rock outfit, The Allman Brothers Band. He's also the leader of "Jaimoe's Jasssz Band." Before joining The Allman Brothers Band in 1969, Johanson played with Otis Redding, Sam & Dave, and Joe Tex. His jazz, blues rock, R&B, and soul mastery helped ensure Allman Brothers Band's placement as the most influential classic-rock bands of the era. In 1995, Johanson and his fellow Allman Brothers Band members are indicted into the Rock and Roll Hall of Fame.
John Mitchell AKA Mitch Mitchell: 7/9/1947
The original drummer of the English power trio The Jimi Hendrix Experience, whose jazz fusion style became an integral component of the group's sound. He would collaborate with Hendrix until the guitarist's untimely death. He is also celebrated as one of the 60's top rock drummers. Mitchell played behind Hendrix at his famous Woodstock performance.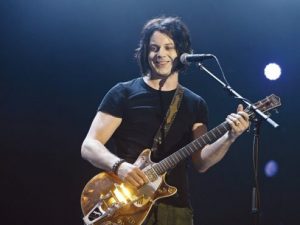 Jack White:  7/9/ 1975
An American singer, songwriter, multi-instrumentalist and producer. He's mostly known for his work with the "The White Stripes." He's also had success in other bands and as a solo artist.  When it comes to collaborations, there are no boundaries when it comes to musical genres. Some great ones are with the likes of Loretta Lynn, Bob Dylan, Alicia Keys, Wanda Jackson and The Rolling Stones. In 2006, White founded "The Raconteurs" with Brendan Benson. In 2009,"The Dead Weather" with Alison Mosshart of The Kills is formed. On April 24, 2012, White released his debut solo album, Blunderbuss. His second studio album, Lazaretto, was released on June 10, 2014. His third studio album, Boarding House Reach, was released on March 23, 2018. All three records received wide commercial and critical acclaim.  After eight years, The Raconteurs recently reunited to release Help Us Stranger on June 21st. They are currently on tour.
Fulton Allen AKA Blind Boy Fuller: 7/10/1907
Fulton Allen, otherwise known as Blind Boy Fuller, is a country blues singer and an adept Piedmont guitarist. He also incorporated ragtime and popular music into his songs. He's recorded over one hundred sides in a period of five years. Some of his better-known songs include "Step It Up and Go", Truckin' My Blues Away" and "Lost Lover Blues".
Imelda Highman AKA Imelda May: 7/10/1974
Award winning Irish singer-songwriter, multi-instrumentalist, and producer, whose style blends rockabilly with her influences from both jazz and blues. May is compared to female Jazz musicians such as Billie Holiday and others. Known primarily as a singer, she also plays the bodhran, guitar, bass guitar and tambourine.
Help us with our mission of Keeping the Blues Alive in schools! To learn more or donate to Keeping The Blues Alive, visit our website at https://keepingthebluesalive.org/