This week's Blues birthdays features Washboard Sam, Denise LaSalle, Screamin' Jay Hawkins, Brian May and guitar virtuoso Carlos Santana.  Be sure to check back next week for more blues birthdays!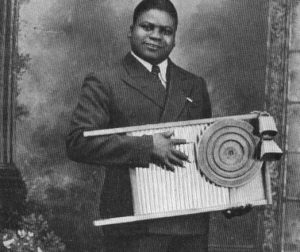 Robert Brown AKA Washboard Sam: 7/15/1910
A very popular Chicago blues singer and washboard player. He was also an adept songwriter, who during the 30's and 40's, made over 150 recordings. He worked extensively with the likes of Big Bill Broonzy, Tampa Red, and Memphis Slim throughout his career.  In 1935, he began recording in his own right for both Bluebird and Vocalion Records. Becoming one of the most popular Chicago blues performers of the late 1930s and 1940s. Selling numerous records and playing to packed audiences. He recorded over 160 tracks in those decades. His strong voice and songwriting talent overcame his stylistic limitations.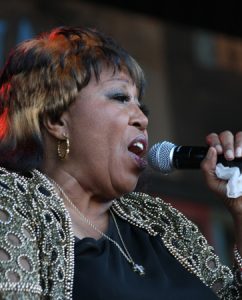 Denise Allen AKA Denise LaSalle: 7/16/1939
Blues, soul and R&B singer-songwriter who is best known for her hit singles, "Now Run And Tell That", "Man Sized Job", and her biggest release, "Trapped By A Thing Called Love", which went on to sell a million copies in 1971.  

Screamin Jay Hawkins: 7/18/1929          
Screamin' Jay Hawkins was an American singer-songwriter, musician, actor, film producer, and boxer. Famed chiefly for his powerful, operatic vocal delivery and wildly theatrical performances of songs such as "I Put a Spell on You." He sometimes used macabre props onstage, making him an early pioneer of "shock rock."  Born and raised in Cleveland, Ohio, Hawkins studied classical piano as a child and learned guitar in his 20s. His initial goal was to become an opera singer but when his initial ambitions failed, he began his career as a conventional blues singer and pianist.  Hawkins' most successful recording, "I Put a Spell on You" (1956), was selected as one of The Rock and Roll Hall of Fame's 500 Songs that Shaped Rock and Roll.
Brian May is an English musician, singer, songwriter and astrophysicist. May was a co-founder of Queen with lead singer Freddie Mercury and drummer Roger Taylor, having previously performed with Taylor in the band Smile, which he had joined while he was at university. Within five years of their formation in 1970 and the recruitment of bass player John Deacon completing the lineup, Queen had become one of the biggest rock bands in the world with the success of the album A Night at the Opera and its single "Bohemian Rhapsody". From the mid-1970s until the early 1990s, Queen were an almost constant presence in the UK charts and played some of the biggest venues in the world, most notably giving an acclaimed performance at Live Aid in 1985. As a member of Queen, May became regarded as a virtuoso musician and he was identified with a distinctive sound created through his layered guitar work, often using a home-built electric guitar called the Red Special. Following the death of Mercury in 1991, Queen were put on hiatus for several years but were eventually reconvened by May and Taylor for further performances featuring other vocalists. In 2001, he was inducted into the Rock and Roll Hall of Fame as a member of Queen and in 2018 the band received the Grammy Lifetime Achievement Award.
Carlos Santana: 7/20/1947
Celebrated Mexican American guitar virtuoso, songwriter and bandleader who has been at the forefront of Latin rock for over 40 years. His band, Santana, rose to prominence in the late 1960's with its mixture of blues, jazz, Latin and psychedelic rock, and has sold over 100 million records around the world in addition to having acquired numerous awards throughout the years.  Santana had early success with their appearance at Woodstock in 1969 and their first three albums, Santana (1969), Abraxas (1970), and Santana III (1971).  Santana is one of the best-selling groups of all time with 43.5 million certified albums sold the US, and an estimated 100 million sold worldwide. Its discography includes 25 studio albums, 14 of which reached the US top 10. In 1998, the line-up of Santana, Rolie, Carabello, Shrieve, Brown, and Areas was inducted into the Rock and Roll Hall of Fame. In 2000, the band won six Grammy Awards in one night, a record tied with Michael Jackson, and three Latin Grammy Awards.
That's it for Blues Birthdays for this week but be sure to check back next week to see who we pick.
Help us with our mission of Keeping the Blues Alive in schools! To learn more or donate to Keeping The Blues Alive, visit our website at https://keepingthebluesalive.org/