This week's Blues birthdays features Son Seals, Eric Bibb, Luther Allison and fusion guitarist Eric Johnson! Be sure to check back next week for more blues birthdays!
Frank AKA "Son" Seals – 8/13/1942
Electric blues singer, guitar player also a drummer.  Growing up in Arkansas, Son Seals learn a lot of valuable lessons at his father's juke joint.  For example, he is exposed to a lot of different genres of music that inspires him to be a musician.  At first, he starts with playing the drums at the age of thirteen and later changes over to guitar at 16.  Once he becomes established in the local music scene, he starts to play with the famous blues musicians.  During this time, he considered a professional artist and starts performing with the likes of Albert King, Bobby Bland, and Junior Parker.  Later in 1971, Seals moves to a booming blues scene in Chicago where he was discovered by Alligator Records and his recording career takes off.  Sadly, Seals passes away at 62 in 2004. In 2009, the Blues Hall of Fame inducts him posthumously.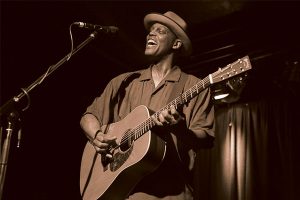 Eric Bibb – 8/16/1951
Multiple-time award-nominated American folk-blues guitarist, songwriter, and vocalist. He took up the guitar from the age of seven and began to play professionally at sixteen. Three years later, he relocated to Paris where, thanks to fellow guitarist Mickey Baker, his interest in blues music ignited. He moves once again, settling in Stockholm, Sweden, and in 1972 began a long and celebrated recording career. Last of all, he records 40 albums and has been nominated for numerous Blues Music Awards. He also receives a Grammy nomination for his work on Taj Mahal's Shakin' a Tailfeather.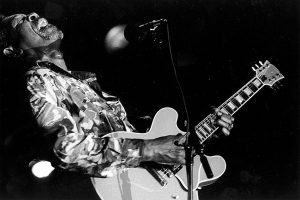 Luther Allison – 8/17/1939
Before being known for his pulse-pounding performances and powerhouse guitar prowess. This bluesman taught himself to play the guitar shortly after moving to Chicago with his family at age twelve.  He sharpened his skills at blues clubs throughout the Windy City, where he would often sit in with a lot of blues greats. 
His Career Takes off
In 1967, he signed to Delmark Records and released his debut album two years later. Allison built a strong following off of his performances. He signed to Motown Records in the early 70's before departing for Europe in 1977 where he lived and worked for a number year. Signed to Alligator Records, he returned to the United States in the early 90's where his popularity erupted, boosted not only by universal critical acclaim (he would win 5 Blues Music Awards in 1996 alone) but also a plethora of appearances at festivals. He enjoyed his rejuvenated career, both on the road and in the studio, until his passing in 1997.
Eric Johnson – 8/17/1954
Sensational blues and fusion guitarist who has made a living and popular name for himself for his incredible technical prowess. He drew influences from various sources that helped him to mold his current, distinct sound and tone. Some of these influences include, Wes Montgomery, Jimi Hendrix, Bob Dylan, Django Reinhardt, and more. He has played with many other artists but is mostly known for his solo projects. His song Cliffs of Dover won a Grammy Award for Best Rock Instrumental Performance, and the album Ah Via Musicom was certified platinum. It also is one of the most attempted cover songs and has appeared in a few video games. Johnson still tours and records and is still highly influential for young guitarists. Johnson is still heavily active on the scene, releasing a fantastic album Collage in 2017.  You can check him out on the current Experience Hendrix Tour as well.
Help us with our mission of Keeping the Blues Alive in schools! To learn more or donate to Keeping The Blues Alive, visit our website at https://keepingthebluesalive.org/