Birthday's This Week – August 5 – August 11
This week's birthday's include Allan Holdsworth, Magic Slim, Nuno Mindelis, Jimmy Witherspoon, Ian Anderson and Drummer Anton Fig. Be sure to check back next week for more blues birthdays!
Allan Holdsworth: 08/06/1946
Holdsworth was a highly proficient and successful guitar player and composer from England. In the late 60's and early 70's, Holdsworth already showed a major interest in playing jazz and pushing his playing to higher levels. He is known for his mind-blowing technical abilities on the guitar, and his funky headless guitars.
His style can be described as jazz fusion mixed with progressive rock.  A style that gained a lot of notoriety in the 80's and into the 90's. His knowledge of the instrument was unmatched. Musicians like Zappa and Gary Moore, "proclaimed that Holdsworth is one of the most advanced guitarists of his time." Holdsworth is recognized for his signature headless synth axe guitar that gave him a distinct sound. Holdsworth passed away in April 2017 in California at the age of 70.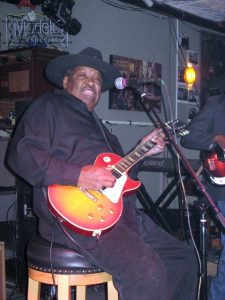 Morris Holt AKA Magic Slim: 8/7/1937
Acclaimed Mississippi-born guitarist, singer, songwriter, and bandleader who began to carve a niche for himself in Chicago blues. After his return to the bustling city in 1965. His first attempt to make it in The "Windy City", alongside his friend and mentor Magic Sam. With little success in Chicago, he returns to Mississippi to sharpen his skills and form a band of his own.
Along with his crew, the Teardrops, Slim began to record singles in 1966. This leads to a full-length debut in 1977 with more in the upcoming years. Magic Slim becomes a cherished figure in the Chicago blues scene and received critical acclaim with over 44 Blues Music Award nominations and 7 wins. Posthumously, he is awarded 'Traditional Blues Male Artist' in 2013.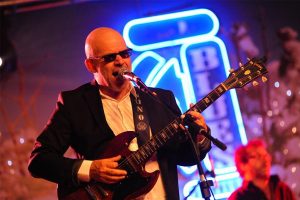 Nuno Mindelis 8/7/1957
Nicknamed "The Beast from Brazil", Nuno Mindelis is an Angolan-born Brazilian blues guitarist and singer-songwriter. He records in English, with the only exception being his 2006 album Outros Nunos that is in Portuguese. Lastly, he recorded two albums with the band "Double Trouble."
Anton Fig: 08/08/1952
Anton Fig is a prolific musician who has been around music for quite some time and has performed in various settings. Playing everything from hard rock and blues to gospel and jazz. Fig was born in Cape Town, South Africa in 1952, and was introduced to music at the age of four. Fig began practicing and gigging with many rock groups and started making a name for himself early on.
Earning the nickname "The Thunder from Down Under." Anton has played with many artists, including a two-album stint with the explosive entertainers, KISS! A major part of David Letterman's Late Show Band run by Paul Schaffer. Fig currently performs with Joe Bonamassa and appears on a few of his albums and live performances. Fig is an integral part of Bonamassa's band, showing that he can navigate through any musical genre.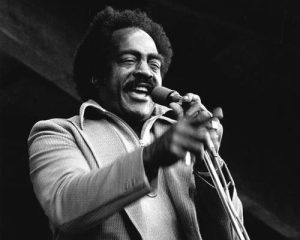 Jimmy Witherspoon AKA Spoon: 8/8/1920
Jump blues and jazz singer known for his recordings of "No Rollin' Blues", "Ain't Nobody's Business", and "Big Fine Girl", Witherspoon's style of blues that of the "blues shouter" became unfashionable in the mid-1950s.
He returned to popularity with his 1959 album Jimmy Witherspoon at the Monterey Jazz Festival, which features Roy Eldridge, Woody Herman, Ben Webster, Coleman Hawkins, Earl Hines and Mel Lewis, among others. Later, Witherspoon records with Gerry Mulligan, Leroy Vinnegar, Richard "Groove" Holmes and T-Bone Walker.  He continues to perform and record into the 1990s.
Ian Anderson: 08/10/1947
Ian Anderson, known throughout the world of rock music as the flute and voice behind the legendary Jethro Tull, He is celebrating his 51st year as a recording and performing musician in 2019. The man who introduced the flute to rock music, Ian Anderson remains the crowned exponent of flute playing.  Consequently, no pretender to the throne has stepped forward.
Ian plays ethnic flutes and whistles together with an acoustic guitar and other mandolin family of instruments. He provides the acoustic textures that has been an integral part of the Tull repertoire.  Jethro Tull, to date, has released 30 studio and live albums, selling more than 60 million copies. Quite an accomplishment since the band first performed at London's famous Marquee Club in February 1968.
That's it for this week's "Blues Birthdays." Be sure to check back next week to see who we pick.
To learn more or donate to Keeping The Blues Alive, visit our website at https://keepingthebluesalive.org/